People of the Book 2019 Reading Plan
Reading the Bible in Chronological Order
We are reading through the Bible chronologically this year using these bookmarks as a guide. At the end of each week on Sundays at 5 PM, we are gathering in small groups to discuss what we've learned as we read. If this strikes your interest, we hope you'll pick up with today's date and come join us as we read! The current month's reading till be featured at the top with the full scheduled below that.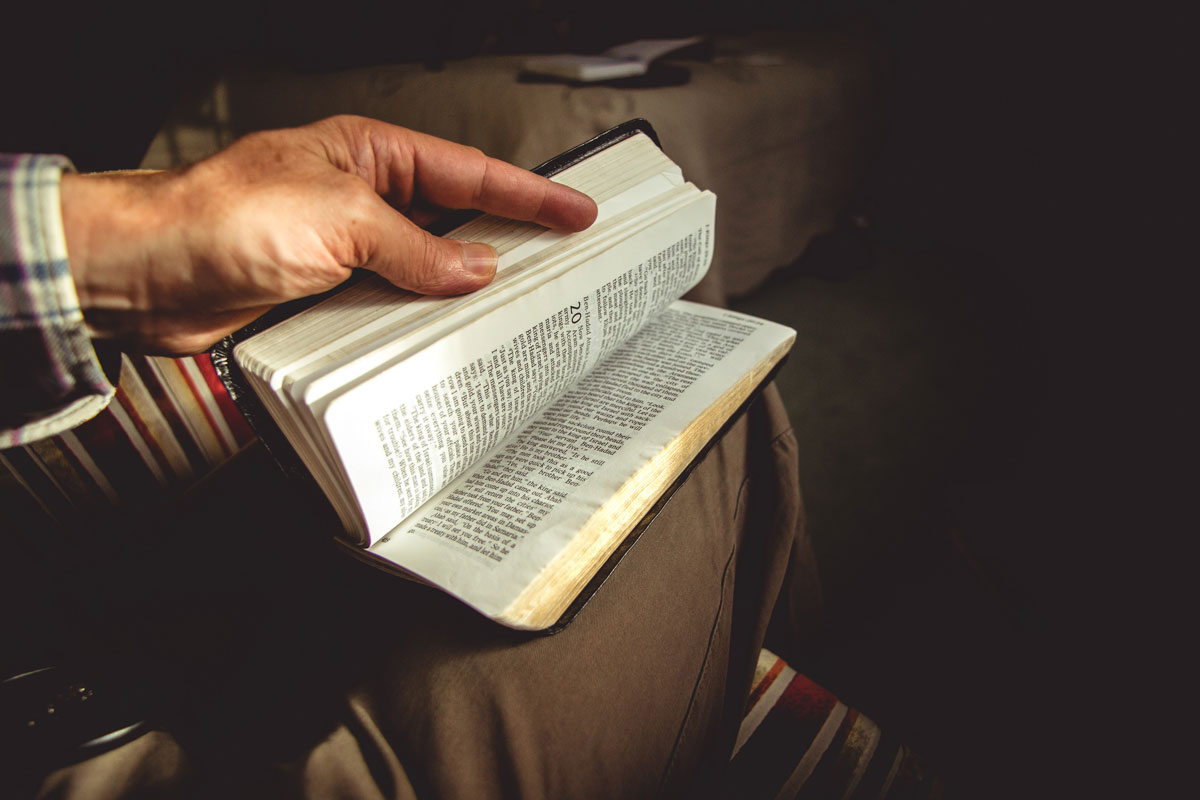 Questions to consider as you read:
What did you learn?
What didn't you understand?
What had you not seen before?
One Book Sermon Series
Hosea is a fascinating story about a prophet who literally embodied what Israel's unfaithfulness to God was like. In marrying Gomer, who would become a harlot, and in buying her back, the message is this is what our sin looks like to God and this is what God is willing to do for sinners. It's a powerful message that is foreshowing the Gospel of Christ.
Daniel is a book about dreams and prophecies. But at the heart of the story we find how God's people must always stand up and stand out for what they believe no matter the circumstances. This lesson focuses on the events of chapter three and the three young men who stayed cool under fire.
Ezekiel was a priest and prophet taken away into Babylonian captivity. After witnessing a great vision of God's presence removed from the temple, Ezekiel brings the prophecy of God's destruction of Jerusalem and the temple. Yet, even with this destruction and despair, there is still hope that is envisioned in the valley of dry bones where God brings Israel's hopes back to life.
December
| Day | Read | Day | Read | Day | Read | Day | Read |
| --- | --- | --- | --- | --- | --- | --- | --- |
| 1 | 1 Cor. 9-11 | 9 | Rmns. 8-10 | 17 | Philippians | 25 | 2 Peter, Jude |
| 2 | 1 Cor. 12-14 | 10 | Rmns. 11-13 | 18 | 1 Timothy | 26 | 1 John |
| 3 | 1 Cor. 15-16 | 11 | Rmns. 14-16 | 19 | Titus | 27 | 2, 3 John |
| 4 | 2 Cor. 1-4 | 12 | Acts 30-23 | 20 | 1 Peter | 28 | Rev. 1-5 |
| 5 | 2 Cor. 5-9 | 13 | Acts 24-26 | 21 | Hebrews 1-6 | 29 | Rev. 6-11 |
| 6 | 2 Cor. 10-13 | 14 | Acts 27-28 | 22 | Hebrews 7-10 | 30 | Rev. 12-18 |
| 7 | Rmns. 1-3 | 15 | Col.; Philemon | 23 | Hebrews 11-13 | 31 | Rev. 19-22 |
| 8 | Rmns. 4-7 | 16 | Ephesians | 24 | 2 Timothy | | |
January
| Day | Read | Day | Read | Day | Read | Day | Read |
| --- | --- | --- | --- | --- | --- | --- | --- |
| 1 | Gen. 1-3 | 9 | Job 21-23 | 17 | Gen. 16-18 | 25 | Gen. 38-40 |
| 2 | Gen. 4-7 | 10 | Job 24-28 | 18 | Gen. 19-21 | 26 | Gen. 41-42 |
| 3 | Gen. 8-11 | 11 | Job 29-31 | 19 | Gen. 22-24 | 27 | Gen. 43-45 |
| 4 | Job 1-5 | 12 | Job 32-34 | 20 | Gen. 25-26 | 28 | Gen. 46-47 |
| 5 | Job 6-9 | 13 | Job 35-37 | 21 | Gen. 27-29 | 29 | Gen. 48-50 |
| 6 | Job 10-13 | 14 | Job 38-39 | 22 | Gen. 30-31 | 30 | Ex. 1-3 |
| 7 | Job 14-16 | 15 | Job 40-42 | 23 | Gen. 32-24 | 31 | Ex. 4-6 |
| 8 | Job 17-20 | 16 | Gen. 121-15 | 24 | Gen. 35-37 | | |
February
| Day | Read | Day | Read | Day | Read | Day | Read |
| --- | --- | --- | --- | --- | --- | --- | --- |
| 1 | Ex. 7-9 | 9 | Ex. 30-32 | 17 | Lev. 14-15 | 25 | Num. 5-6 |
| 2 | Ex. 10-12 | 10 | Ex. 33-35 | 18 | Lev. 16-18 | 26 | Num. 7 |
| 3 | Ex. 13-15 | 11 | Ex. 36-38 | 19 | Lev. 19-21 | 27 | Num. 8-10 |
| 4 | Ex. 16-18 | 12 | Ex. 39-40 | 20 | Lev. 22-23 | 28 | Num. 11-13 |
| 5 | Ex. 19-21 | 13 | Lev. 1-4 | 21 | Lev. 24-25 | | |
| 6 | Ex. 22-24 | 14 | Lev. 5-7 | 22 | Lev. 26-27 | | |
| 7 | Ex. 25-27 | 15 | Lev. 8-10 | 23 | Num. 1-2 | | |
| 8 | Ex. 28-29 | 16 | Lev. 11-13 | 24 | Num. 3-4 | | |
March
| Day | Read | Day | Read | Day | Read | Day | Read |
| --- | --- | --- | --- | --- | --- | --- | --- |
| 1 | Num. 14-15, Ps. 90 | 9 | Num. 33-34 | 17 | Deut. 17-20 | 25 | Josh. 9-11 |
| 2 | Num. 16-17 | 10 | Num. 35-36 | 18 | Deut. 21-23 | 26 | Josh. 12-15 |
| 3 | Num. 18-20 | 11 | Deut. 1-2 | 19 | Deut. 24-27 | 27 | Josh. 16-18 |
| 4 | Num. 21-22 | 12 | Deut. 3-4 | 20 | Deut. 28-29 | 28 | Josh. 19-21 |
| 5 | Num. 23-25 | 13 | Deut. 5-7 | 21 | Deut. 30-31 | 29 | Josh 22-24 |
| 6 | Num. 26-27 | 14 | Deut. 8-10 | 22 | Deut. 32-34, Ps. 91 | 30 | Jdgs. 1-2 |
| 7 | Num. 28-30 | 15 | Deut. 11-13 | 23 | Josh. 1-4 | 31 | Jdgs. 3-5 |
| 8 | Num. 31-32 | 16 | Deut. 14-16 | 24 | Josh. 5-7 | | |
April
| Day | Read | Day | Read | Day | Read | Day | Read |
| --- | --- | --- | --- | --- | --- | --- | --- |
| 1 | Jdgs. 6-7 | 9 | 1 Sam. 4-8 | 17 | 1 Sam. 25-27 | 25 | 1 Chron. 3-5 |
| 2 | Jdgs. 8-9 | 10 | 1 Sam. 9-12 | 18 | Ps. 17, 35, 54, 63 | 26 | Ps. 73, 77-78 |
| 3 | Jdgs. 10-12 | 11 | 1 Sam. 13-14 | 19 | 1 Sam. 28-31; Ps. 18 | 27 | 1 Chron. 6 |
| 4 | Jdgs. 13-15 | 12 | 1 Sam 15-17 | 20 | Ps. 121, 123-125, 128-130 | 28 | Ps. 81, 88, 92-93 |
| 5 | Jdgs. 16-18 | 13 | 1 Sam. 18-20; Ps. 11, 59 | 21 | 2 Sam. 1-4 | 29 | 1 Chron. 7-10 |
| 6 | Jdgs. 19-21 | 14 | 1 Sam 21-24 | 22 | Ps. 6, 8-10, 14, 16, 19, 21 | 30 | Ps. 102-104 |
| 7 | Ruth 1-4 | 15 | Ps. 7, 27, 31, 34, 52 | 23 | 1 Chron. 1-2 | | |
| 8 | 1 Sam. 1-3 | 16 | Ps. 56, 120, 140-142 | 24 | Ps. 43-45, 49, 84-85, 87 | | |
May
| Day | Read | Day | Read | Day | Read | Day | Read |
| --- | --- | --- | --- | --- | --- | --- | --- |
| 1 | 2 Sam. 5; 1 Chron 11-12 | 9 | 2 Sam. 8-9; 1 Chron. 18 | 17 | 2 Sam. 16-18 | 25 | 1 Chron. 23-25 |
| 2 | Ps. 133 | 10 | Ps. 50, 53, 60, 75 | 18 | Ps. 26, 40, 58, 61-62, 64 | 26 | Ps. 131, 138-139, 143-145 |
| 3 | Ps. 106-107 | 11 | 2 Sam. 10; 1 Chron. 19; Ps. 20 | 19 | 2 Sam. 19-21 | 27 | 1 Chron. 26-29; Ps. 127 |
| 4 | 1 Chron. 13-16 | 12 | Ps. 65-67, 69-70 | 20 | Ps. 5, 38, 41-42 | 28 | Ps. 111-118 |
| 5 | Ps. 1-2, 15, 22-24, 47, 68 | 13 | 2 Sam. 11-12; 1 Chron. 20 | 21 | 2 Sam. 22-23; Ps. 57 | 29 | 1 Kings 1-2; Ps. 37, 71, 94 |
| 6 | Ps. 89, 96, 100-101, 105, 132 | 14 | Ps. 32, 51, 86, 122 | 22 | Ps. 95, 97-99 | 30 | Ps. 119 |
| 7 | 2 Sam. 6-7; 1 Chron. 17 | 15 | 2 Sam. 13-15 | 23 | 2 Sam. 24; 1 Chron, 21-22; Ps. 30 | 31 | 1 Kings 3-4 |
| 8 | Ps. 25, 29, 33, 36, 39 | 16 | Ps. 3-4, 12-13, 28, 55 | 24 | Ps. 108-110 | | |
June
| Day | Read | Day | Read | Day | Read | Day | Read |
| --- | --- | --- | --- | --- | --- | --- | --- |
| 1 | 2 Chron. 1; Ps. 72 | 9 | Prov. 19-21 | 17 | Prob. 25-26 | 25 | 1 Kgs. 15; 2 Chron. 13-16 |
| 2 | Song of Solomon | 10 | Prov. 22-24 | 18 | Prov. 27-29 | 26 | 1 Kgs. 16; 2 Chron. 17 |
| 3 | Prov. 1-3 | 11 | 1 Kgs. 5-6; 2 Chron. 2-3 | 19 | Ecc. 1-6 | 27 | 1 Kgs. 17-19 |
| 4 | Prov. 4-6 | 12 | 1 Kgs. 7; 2 Chron. 4 | 20 | Ecc. 7-12 | 28 | 1 Kgs. 20-21 |
| 5 | Prov. 7-9 | 13 | 1 Kgs. 8; 2 Chron. 5 | 21 | 1 Kgs. 10-11; 2 Chron. 9 | 29 | 1 Kgs. 22; 2 Chron. 18 |
| 6 | Prov. 10-12 | 14 | 2 Chron. 6-7; Ps. 136 | 22 | Prov. 30-31 | 30 | 2 Chron. 19-23 |
| 7 | Prov. 13-15 | 15 | Ps. 134. 146-150 | 23 | 1 Kgs. 12-14 | | |
| 8 | Prov. 16-18 | 16 | 1 Kgs. 9; 2 Chron. 8 | 24 | 2 Chron. 10-12 | | |
July
| Day | Read | Day | Read | Day | Read | Day | Read |
| --- | --- | --- | --- | --- | --- | --- | --- |
| 1 | Obadiah; Ps. 82-82 | 9 | Isaiah 1-4 | 17 | Is. 18-22 | 25 | Is. 37-39; Ps. 76 |
| 2 | 2 Kgs. 1-4 | 10 | Isaiah 5-8 | 18 | Is. 23-27 | 26 | Is. 40-43 |
| 3 | 2 Kgs. 5-8 | 11 | Amos 1-5 | 19 | 2 Kgs. 18; 2 Chron. 29-31; Ps. 48 | 27 | Is. 44-48 |
| 4 | 2 Kgs. 9-11 | 12 | Amos 6-9 | 20 | Hosea 1-7 | 28 | 2 Kgs. 19; Ps. 46, 80, 135 |
| 5 | 2 Kgs. 12-13; 2 Chron. 24 | 13 | 2 Chron. 27; Is. 9-12 | 21 | Hosea 8-14 | 29 | Is. 49-53 |
| 6 | 2 Kgs. 14; 2 Chron. 25 | 14 | Micah | 22 | Is. 28-30 | 30 | Is. 54-58 |
| 7 | Jonah 1-4 | 15 | 2 Chron. 28; 2 Kgs. 16-17 | 23 | Is. 31-34 | 31 | Is. 59-63 |
| 8 | 2 Kgs. 15; 2 Chron. 26 | 16 | Is. 13-17 | 24 | Is. 35-36 | | |
August
| Day | Read | Day | Read | Day | Read | Day | Read |
| --- | --- | --- | --- | --- | --- | --- | --- |
| 1 | Is. 64-66 | 9 | Jer. 7-9 | 17 | Jer. 35-37 | 25 | Lam. 1-2 |
| 2 | 2 Kgs. 20-21 | 10 | Her. 10-13 | 18 | Jer. 38-40; Pr. 74, 79 | 26 | Lam. 3-5 |
| 3 | 2 Chron. 32-33 | 11 | Jer. 14-17 | 19 | 2 Kgs. 24-25; 2 Chr. 36 | 27 | Ez. 1-4 |
| 4 | Nahum | 12 | Jer. 18-22 | 20 | Habakkuk | 28 | Ez. 5-8 |
| 5 | 2 Kgs. 22-23; 2 Chron. 34-35 | 13 | Jer. 23-25 | 21 | Jer. 41-45 | 29 | Ez. 9-12 |
| 6 | Zephaniah | 14 | Jer. 26-29 | 22 | Jer. 46-48 | 30 | Ez. 13-15 |
| 7 | Jer. 1-3 | 15 | Jer. 30-31 | 23 | Jer. 49-50 | 31 | Ez. 16-17 |
| 8 | Jer. 4-6 | 16 | Jer. 32-34 | 24 | Jer. 51-52 | | |
September
| Day | Read | Day | Read | Day | Read | Day | Read |
| --- | --- | --- | --- | --- | --- | --- | --- |
| 1 | Ez. 18-20 | 9 | Exz. 40-42 | 17 | Ezra 1-3 | 25 | Ezra7-10 |
| 2 | Ez. 21-22 | 10 | Ez. 43-45 | 18 | Ezra 4-6; Ps. 137 | 26 | Neh. 1-5 |
| 3 | Ez. 23-24 | 11 | Ez. 46-48 | 19 | Haggai | 27 | Neh. 6-7 |
| 4 | Ez. 25-27 | 12 | Joel 1-3 | 20 | Zech. 1-4 | 28 | Neh. 8-10 |
| 5 | Ez. 28-30 | 13 | Daniel 1-3 | 21 | Zech. 5-9 | 29 | Neh. 11-13; Ps. 126 |
| 6 | Ez. 31-33 | 14 | Daniel 4-6 | 22 | Zech. 10-14 | 30 | Malachi |
| 7 | Ez. 34-46 | 15 | Daniel 7-9 | 23 | Esth. 1-5 | | |
| 8 | Ex. 37-39 | 16 | Daniel 10-12 | 24 | Esth. 6-10 | | |
October
| Day | Read | Day | Read | Day | Read | Day | Read |
| --- | --- | --- | --- | --- | --- | --- | --- |
| 1 | Lk. 1; Jn. 1 | 9 | Mt. 12; Mk. 3; Lk. 6 | 17 | Mt. 14; Mk. 6; Lk. 9 | 25 | Lk. 10 |
| 2 | Mt. 1; Lk. 2 | 10 | Mt. 5-7 | 18 | Jn. 6 | 26 | Lk. 12-13 |
| 3 | Mt. 2 | 11 | Mt. 9; Lk. 7 | 19 | Mt. 15; Mk. 7 | 27 | Lk. 14-15 |
| 4 | Mt. 2; Mk. 1; Lk. 3 | 12 | Mt. 11 | 20 | Mt. 16; Mk. 8 | 28 | Lk. 16-17 |
| 5 | Mt. 4; Lk. 4-5 | 13 | Lk. 11 | 21 | Mt. 17; Mk. 9 | 29 | Jn. 11 |
| 6 | Jn. 2-4 | 14 | Mt. 13; Lk. 8 | 22 | Mt. 18 | 30 | Lk. 18 |
| 7 | Mt. 8; Mk. 2 | 15 | Mk. 4-5 | 23 | Jn. 7-8 | 31 | Mt. 19; Mk. 10 |
| 8 | Jn. 5 | 16 | Mt. 10 | 24 | Jn. 9-10 | | |
November
| Day | Read | Day | Read | Day | Read | Day | Read |
| --- | --- | --- | --- | --- | --- | --- | --- |
| 1 | Mt. 20-21 | 9 | Mt. 26; Mk. 14 | 17 | Acts 4-6 | 25 | Gal. 4-6 |
| 2 | Lk. 19 | 10 | Lk. 22; Jn. 13 | 18 | Acts 7-8 | 26 | Acts 17 |
| 3 | Mk. 11; Jn. 12 | 11 | Jn. 14-17 | 19 | Acts 9-10 | 27 | 1&2 Thess. |
| 4 | Mt. 22; Mk. 12 | 12 | Mt. 27; Mk. 15 | 20 | Acts 11-12 | 28 | Acts 18-19 |
| 5 | Mt. 23; Lk. 20-21 | 13 | Lk. 23; Jn. 18-19 | 21 | Acts 13-14 | 29 | 1 Cor. 1-4 |
| 6 | Mk. 13 | 14 | Mt. 28; Mk. 16 | 22 | James | 30 | 1 Cor. 5-8 |
| 7 | Mt. 24 | 15 | Lk. 24; Jn. 20-21 | 23 | Acts 15-16 | | |
| 8 | Mt. 25 | 16 | Acts 1-3 | 24 | Gal. 1-3 | | |
December
| Day | Read | Day | Read | Day | Read | Day | Read |
| --- | --- | --- | --- | --- | --- | --- | --- |
| 1 | 1 Cor. 9-11 | 9 | Rmns. 8-10 | 17 | Philippians | 25 | 2 Peter, Jude |
| 2 | 1 Cor. 12-14 | 10 | Rmns. 11-13 | 18 | 1 Timothy | 26 | 1 John |
| 3 | 1 Cor. 15-16 | 11 | Rmns. 14-16 | 19 | Titus | 27 | 2, 3 John |
| 4 | 2 Cor. 1-4 | 12 | Acts 30-23 | 20 | 1 Peter | 28 | Rev. 1-5 |
| 5 | 2 Cor. 5-9 | 13 | Acts 24-26 | 21 | Hebrews 1-6 | 29 | Rev. 6-11 |
| 6 | 2 Cor. 10-13 | 14 | Acts 27-28 | 22 | Hebrews 7-10 | 30 | Rev. 12-18 |
| 7 | Rmns. 1-3 | 15 | Col.; Philemon | 23 | Hebrews 11-13 | 31 | Rev. 19-22 |
| 8 | Rmns. 4-7 | 16 | Ephesians | 24 | 2 Timothy | | |