People of the Book 2019 Reading Plan
Reading the Bible in Chronological Order
We are reading through the Bible chronologically this year using these bookmarks as a guide. At the end of each week on Sundays at 5 PM, we are gathering in small groups to discuss what we've learned as we read. If this strikes your interest, we hope you'll pick up with today's date and come join us as we read! The current month's reading till be featured at the top with the full scheduled below that.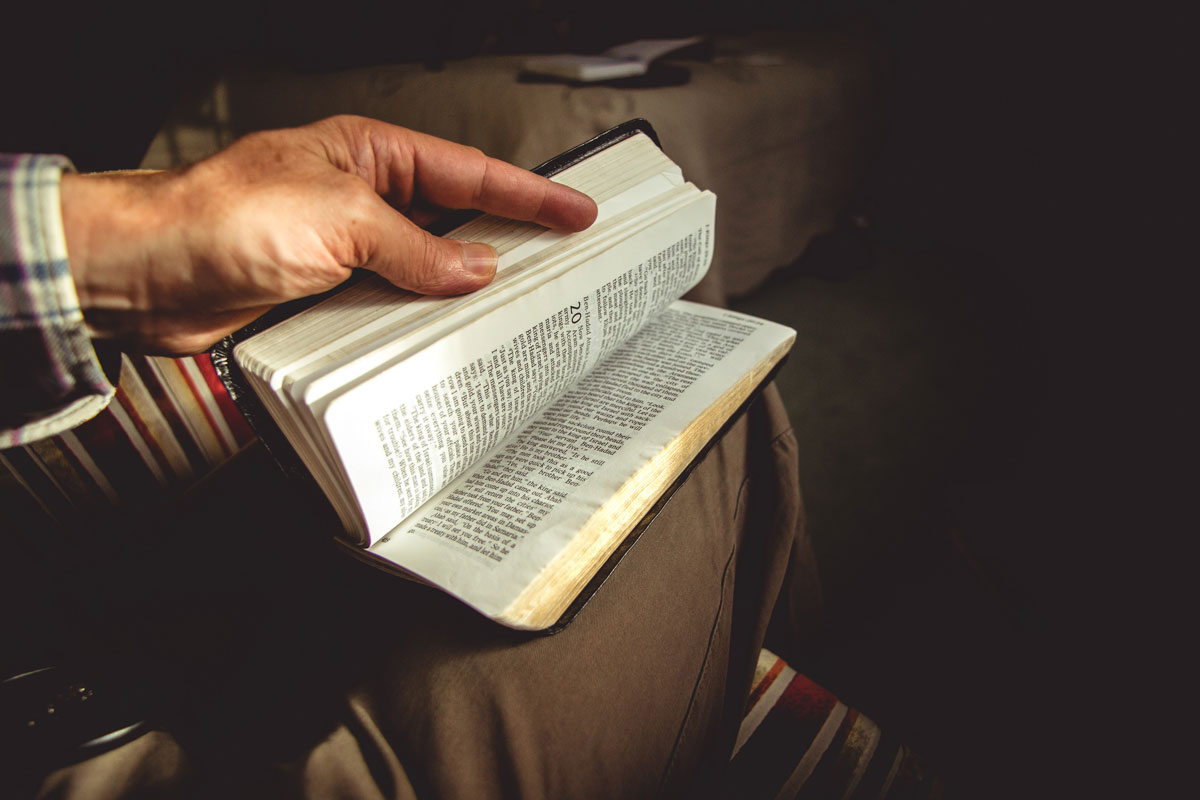 Questions to consider as you read:
What did you learn?
What didn't you understand?
What had you not seen before?
One Book Sermon Series
Isaiah and Micah were contemporaries who preached and prophesied to Judah, the southern kingdom. While being a  "country prophet" Micah argued God's case like a big city lawyer. Three sermons make up the seven chapters of this book. In each sermon, there is "judgment" and "hope." We also highlight the well-know Micah 6:8 passage and explain how it fits into the context of the overall book.
January
| Day | Read | Day | Read | Day | Read | Day | Read |
| --- | --- | --- | --- | --- | --- | --- | --- |
| 1 | Gen. 1-3 | 9 | Job 21-23 | 17 | Gen. 16-18 | 25 | Gen. 38-40 |
| 2 | Gen. 4-7 | 10 | Job 24-28 | 18 | Gen. 19-21 | 26 | Gen. 41-42 |
| 3 | Gen. 8-11 | 11 | Job 29-31 | 19 | Gen. 22-24 | 27 | Gen. 43-45 |
| 4 | Job 1-5 | 12 | Job 32-34 | 20 | Gen. 25-26 | 28 | Gen. 46-47 |
| 5 | Job 6-9 | 13 | Job 35-37 | 21 | Gen. 27-29 | 29 | Gen. 48-50 |
| 6 | Job 10-13 | 14 | Job 38-39 | 22 | Gen. 30-31 | 30 | Ex. 1-3 |
| 7 | Job 14-16 | 15 | Job 40-42 | 23 | Gen. 32-24 | 31 | Ex. 4-6 |
| 8 | Job 17-20 | 16 | Gen. 121-15 | 24 | Gen. 35-37 | | |
February
| Day | Read | Day | Read | Day | Read | Day | Read |
| --- | --- | --- | --- | --- | --- | --- | --- |
| 1 | Ex. 7-9 | 9 | Ex. 30-32 | 17 | Lev. 14-15 | 25 | Num. 5-6 |
| 2 | Ex. 10-12 | 10 | Ex. 33-35 | 18 | Lev. 16-18 | 26 | Num. 7 |
| 3 | Ex. 13-15 | 11 | Ex. 36-38 | 19 | Lev. 19-21 | 27 | Num. 8-10 |
| 4 | Ex. 16-18 | 12 | Ex. 39-40 | 20 | Lev. 22-23 | 28 | Num. 11-13 |
| 5 | Ex. 19-21 | 13 | Lev. 1-4 | 21 | Lev. 24-25 | | |
| 6 | Ex. 22-24 | 14 | Lev. 5-7 | 22 | Lev. 26-27 | | |
| 7 | Ex. 25-27 | 15 | Lev. 8-10 | 23 | Num. 1-2 | | |
| 8 | Ex. 28-29 | 16 | Lev. 11-13 | 24 | Num. 3-4 | | |
March
| Day | Read | Day | Read | Day | Read | Day | Read |
| --- | --- | --- | --- | --- | --- | --- | --- |
| 1 | Num. 14-15, Ps. 90 | 9 | Num. 33-34 | 17 | Deut. 17-20 | 25 | Josh. 9-11 |
| 2 | Num. 16-17 | 10 | Num. 35-36 | 18 | Deut. 21-23 | 26 | Josh. 12-15 |
| 3 | Num. 18-20 | 11 | Deut. 1-2 | 19 | Deut. 24-27 | 27 | Josh. 16-18 |
| 4 | Num. 21-22 | 12 | Deut. 3-4 | 20 | Deut. 28-29 | 28 | Josh. 19-21 |
| 5 | Num. 23-25 | 13 | Deut. 5-7 | 21 | Deut. 30-31 | 29 | Josh 22-24 |
| 6 | Num. 26-27 | 14 | Deut. 8-10 | 22 | Deut. 32-34, Ps. 91 | 30 | Jdgs. 1-2 |
| 7 | Num. 28-30 | 15 | Deut. 11-13 | 23 | Josh. 1-4 | 31 | Jdgs. 3-5 |
| 8 | Num. 31-32 | 16 | Deut. 14-16 | 24 | Josh. 5-7 | | |
April
| Day | Read | Day | Read | Day | Read | Day | Read |
| --- | --- | --- | --- | --- | --- | --- | --- |
| 1 | Jdgs. 6-7 | 9 | 1 Sam. 4-8 | 17 | 1 Sam. 25-27 | 25 | 1 Chron. 3-5 |
| 2 | Jdgs. 8-9 | 10 | 1 Sam. 9-12 | 18 | Ps. 17, 35, 54, 63 | 26 | Ps. 73, 77-78 |
| 3 | Jdgs. 10-12 | 11 | 1 Sam. 13-14 | 19 | 1 Sam. 28-31; Ps. 18 | 27 | 1 Chron. 6 |
| 4 | Jdgs. 13-15 | 12 | 1 Sam 15-17 | 20 | Ps. 121, 123-125, 128-130 | 28 | Ps. 81, 88, 92-93 |
| 5 | Jdgs. 16-18 | 13 | 1 Sam. 18-20; Ps. 11, 59 | 21 | 2 Sam. 1-4 | 29 | 1 Chron. 7-10 |
| 6 | Jdgs. 19-21 | 14 | 1 Sam 21-24 | 22 | Ps. 6, 8-10, 14, 16, 19, 21 | 30 | Ps. 102-104 |
| 7 | Ruth 1-4 | 15 | Ps. 7, 27, 31, 34, 52 | 23 | 1 Chron. 1-2 | | |
| 8 | 1 Sam. 1-3 | 16 | Ps. 56, 120, 140-142 | 24 | Ps. 43-45, 49, 84-85, 87 | | |
May
| Day | Read | Day | Read | Day | Read | Day | Read |
| --- | --- | --- | --- | --- | --- | --- | --- |
| 1 | 2 Sam. 5; 1 Chron 11-12 | 9 | 2 Sam. 8-9; 1 Chron. 18 | 17 | 2 Sam. 16-18 | 25 | 1 Chron. 23-25 |
| 2 | Ps. 133 | 10 | Ps. 50, 53, 60, 75 | 18 | Ps. 26, 40, 58, 61-62, 64 | 26 | Ps. 131, 138-139, 143-145 |
| 3 | Ps. 106-107 | 11 | 2 Sam. 10; 1 Chron. 19; Ps. 20 | 19 | 2 Sam. 19-21 | 27 | 1 Chron. 26-29; Ps. 127 |
| 4 | 1 Chron. 13-16 | 12 | Ps. 65-67, 69-70 | 20 | Ps. 5, 38, 41-42 | 28 | Ps. 111-118 |
| 5 | Ps. 1-2, 15, 22-24, 47, 68 | 13 | 2 Sam. 11-12; 1 Chron. 20 | 21 | 2 Sam. 22-23; Ps. 57 | 29 | 1 Kings 1-2; Ps. 37, 71, 94 |
| 6 | Ps. 89, 96, 100-101, 105, 132 | 14 | Ps. 32, 51, 86, 122 | 22 | Ps. 95, 97-99 | 30 | Ps. 119 |
| 7 | 2 Sam. 6-7; 1 Chron. 17 | 15 | 2 Sam. 13-15 | 23 | 2 Sam. 24; 1 Chron, 21-22; Ps. 30 | 31 | 1 Kings 3-4 |
| 8 | Ps. 25, 29, 33, 36, 39 | 16 | Ps. 3-4, 12-13, 28, 55 | 24 | Ps. 108-110 | | |
June
| Day | Read | Day | Read | Day | Read | Day | Read |
| --- | --- | --- | --- | --- | --- | --- | --- |
| 1 | 2 Chron. 1; Ps. 72 | 9 | Prov. 19-21 | 17 | Prob. 25-26 | 25 | 1 Kgs. 15; 2 Chron. 13-16 |
| 2 | Song of Solomon | 10 | Prov. 22-24 | 18 | Prov. 27-29 | 26 | 1 Kgs. 16; 2 Chron. 17 |
| 3 | Prov. 1-3 | 11 | 1 Kgs. 5-6; 2 Chron. 2-3 | 19 | Ecc. 1-6 | 27 | 1 Kgs. 17-19 |
| 4 | Prov. 4-6 | 12 | 1 Kgs. 7; 2 Chron. 4 | 20 | Ecc. 7-12 | 28 | 1 Kgs. 20-21 |
| 5 | Prov. 7-9 | 13 | 1 Kgs. 8; 2 Chron. 5 | 21 | 1 Kgs. 10-11; 2 Chron. 9 | 29 | 1 Kgs. 22; 2 Chron. 18 |
| 6 | Prov. 10-12 | 14 | 2 Chron. 6-7; Ps. 136 | 22 | Prov. 30-31 | 30 | 2 Chron. 19-23 |
| 7 | Prov. 13-15 | 15 | Ps. 134. 146-150 | 23 | 1 Kgs. 12-14 | | |
| 8 | Prov. 16-18 | 16 | 1 Kgs. 9; 2 Chron. 8 | 24 | 2 Chron. 10-12 | | |
July
| Day | Read | Day | Read | Day | Read | Day | Read |
| --- | --- | --- | --- | --- | --- | --- | --- |
| 1 | Obadiah; Ps. 82-82 | 9 | Isaiah 1-4 | 17 | Is. 18-22 | 25 | Is. 37-39; Ps. 76 |
| 2 | 2 Kgs. 1-4 | 10 | Isaiah 5-8 | 18 | Is. 23-27 | 26 | Is. 40-43 |
| 3 | 2 Kgs. 5-8 | 11 | Amos 1-5 | 19 | 2 Kgs. 18; 2 Chron. 29-31; Ps. 48 | 27 | Is. 44-48 |
| 4 | 2 Kgs. 9-11 | 12 | Amos 6-9 | 20 | Hosea 1-7 | 28 | 2 Kgs. 19; Ps. 46, 80, 135 |
| 5 | 2 Kgs. 12-13; 2 Chron. 24 | 13 | 2 Chron. 27; Is. 9-12 | 21 | Hosea 8-14 | 29 | Is. 49-53 |
| 6 | 2 Kgs. 14; 2 Chron. 25 | 14 | Micah | 22 | Is. 28-30 | 30 | Is. 54-58 |
| 7 | Jonah 1-4 | 15 | 2 Chron. 28; 2 Kgs. 16-17 | 23 | Is. 31-34 | 31 | Is. 59-63 |
| 8 | 2 Kgs. 15; 2 Chron. 26 | 16 | Is. 13-17 | 24 | Is. 35-36 | | |
August
| Day | Read | Day | Read | Day | Read | Day | Read |
| --- | --- | --- | --- | --- | --- | --- | --- |
| 1 | Is. 64-66 | 9 | Jer. 7-9 | 17 | Jer. 35-37 | 25 | Lam. 1-2 |
| 2 | 2 Kgs. 20-21 | 10 | Her. 10-13 | 18 | Jer. 38-40; Pr. 74, 79 | 26 | Lam. 3-5 |
| 3 | 2 Chron. 32-33 | 11 | Jer. 14-17 | 19 | 2 Kgs. 24-25; 2 Chr. 36 | 27 | Ez. 1-4 |
| 4 | Nahum | 12 | Jer. 18-22 | 20 | Habakkuk | 28 | Ez. 5-8 |
| 5 | 2 Kgs. 22-23; 2 Chron. 34-35 | 13 | Jer. 23-25 | 21 | Jer. 41-45 | 29 | Ez. 9-12 |
| 6 | Zephaniah | 14 | Jer. 26-29 | 22 | Jer. 46-48 | 30 | Ez. 13-15 |
| 7 | Jer. 1-3 | 15 | Jer. 30-31 | 23 | Jer. 49-50 | 31 | Ez. 16-17 |
| 8 | Jer. 4-6 | 16 | Jer. 32-34 | 24 | Jer. 51-52 | | |
September
| Day | Read | Day | Read | Day | Read | Day | Read |
| --- | --- | --- | --- | --- | --- | --- | --- |
| 1 | Ez. 18-20 | 9 | Exz. 40-42 | 17 | Ezra 1-3 | 25 | Ezra7-10 |
| 2 | Ez. 21-22 | 10 | Ez. 43-45 | 18 | Ezra 4-6; Ps. 137 | 26 | Neh. 1-5 |
| 3 | Ez. 23-24 | 11 | Ez. 46-48 | 19 | Haggai | 27 | Neh. 6-7 |
| 4 | Ez. 25-27 | 12 | Joel 1-3 | 20 | Zech. 1-4 | 28 | Neh. 8-10 |
| 5 | Ez. 28-30 | 13 | Daniel 1-3 | 21 | Zech. 5-9 | 29 | Neh. 11-13; Ps. 126 |
| 6 | Ez. 31-33 | 14 | Daniel 4-6 | 22 | Zech. 10-14 | 30 | Malachi |
| 7 | Ez. 34-46 | 15 | Daniel 7-9 | 23 | Esth. 1-5 | | |
| 8 | Ex. 37-39 | 16 | Daniel 10-12 | 24 | Esth. 6-10 | | |
October
| Day | Read | Day | Read | Day | Read | Day | Read |
| --- | --- | --- | --- | --- | --- | --- | --- |
| 1 | Lk. 1; Jn. 1 | 9 | Mt. 12; Mk. 3; Lk. 6 | 17 | Mt. 14; Mk. 6; Lk. 9 | 25 | Lk. 10 |
| 2 | Mt. 1; Lk. 2 | 10 | Mt. 5-7 | 18 | Jn. 6 | 26 | Lk. 12-13 |
| 3 | Mt. 2 | 11 | Mt. 9; Lk. 7 | 19 | Mt. 15; Mk. 7 | 27 | Lk. 14-15 |
| 4 | Mt. 2; Mk. 1; Lk. 3 | 12 | Mt. 11 | 20 | Mt. 16; Mk. 8 | 28 | Lk. 16-17 |
| 5 | Mt. 4; Lk. 4-5 | 13 | Lk. 11 | 21 | Mt. 17; Mk. 9 | 29 | Jn. 11 |
| 6 | Jn. 2-4 | 14 | Mt. 13; Lk. 8 | 22 | Mt. 18 | 30 | Lk. 18 |
| 7 | Mt. 8; Mk. 2 | 15 | Mk. 4-5 | 23 | Jn. 7-8 | 31 | Mt. 19; Mk. 10 |
| 8 | Jn. 5 | 16 | Mt. 10 | 24 | Jn. 9-10 | | |
November
| Day | Read | Day | Read | Day | Read | Day | Read |
| --- | --- | --- | --- | --- | --- | --- | --- |
| 1 | Mt. 20-21 | 9 | Mt. 26; Mk. 14 | 17 | Acts 4-6 | 25 | Gal. 4-6 |
| 2 | Lk. 19 | 10 | Lk. 22; Jn. 13 | 18 | Acts 7-8 | 26 | Acts 17 |
| 3 | Mk. 11; Jn. 12 | 11 | Jn. 14-17 | 19 | Acts 9-10 | 27 | 1&2 Thess. |
| 4 | Mt. 22; Mk. 12 | 12 | Mt. 27; Mk. 15 | 20 | Acts 11-12 | 28 | Acts 18-19 |
| 5 | Mt. 23; Lk. 20-21 | 13 | Lk. 23; Jn. 18-19 | 21 | Acts 13-14 | 29 | 1 Cor. 1-4 |
| 6 | Mk. 13 | 14 | Mt. 28; Mk. 16 | 22 | James | 30 | 1 Cor. 5-8 |
| 7 | Mt. 24 | 15 | Lk. 24; Jn. 20-21 | 23 | Acts 15-16 | | |
| 8 | Mt. 25 | 16 | Acts 1-3 | 24 | Gal. 1-3 | | |
December
| Day | Read | Day | Read | Day | Read | Day | Read |
| --- | --- | --- | --- | --- | --- | --- | --- |
| 1 | 1 Cor. 9-11 | 9 | Rmns. 8-10 | 17 | Philippians | 25 | 2 Peter, Jude |
| 2 | 1 Cor. 12-14 | 10 | Rmns. 11-13 | 18 | 1 Timothy | 26 | 1 John |
| 3 | 1 Cor. 15-16 | 11 | Rmns. 14-16 | 19 | Titus | 27 | 2, 3 John |
| 4 | 2 Cor. 1-4 | 12 | Acts 30-23 | 20 | 1 Peter | 28 | Rev. 1-5 |
| 5 | 2 Cor. 5-9 | 13 | Acts 24-26 | 21 | Hebrews 1-6 | 29 | Rev. 6-11 |
| 6 | 2 Cor. 10-13 | 14 | Acts 27-28 | 22 | Hebrews 7-10 | 30 | Rev. 12-18 |
| 7 | Rmns. 1-3 | 15 | Col.; Philemon | 23 | Hebrews 11-13 | 31 | Rev. 19-22 |
| 8 | Rmns. 4-7 | 16 | Ephesians | 24 | 2 Timothy | | |