People of the Book 2019 Reading Plan
Reading the Bible in Chronological Order
We are reading through the Bible chronologically this year using these bookmarks as a guide. At the end of each week on Sundays at 5 PM, we are gathering in small groups to discuss what we've learned as we read. If this strikes your interest, we hope you'll pick up with today's date and come join us as we read! The current month's reading till be featured at the top with the full scheduled below that.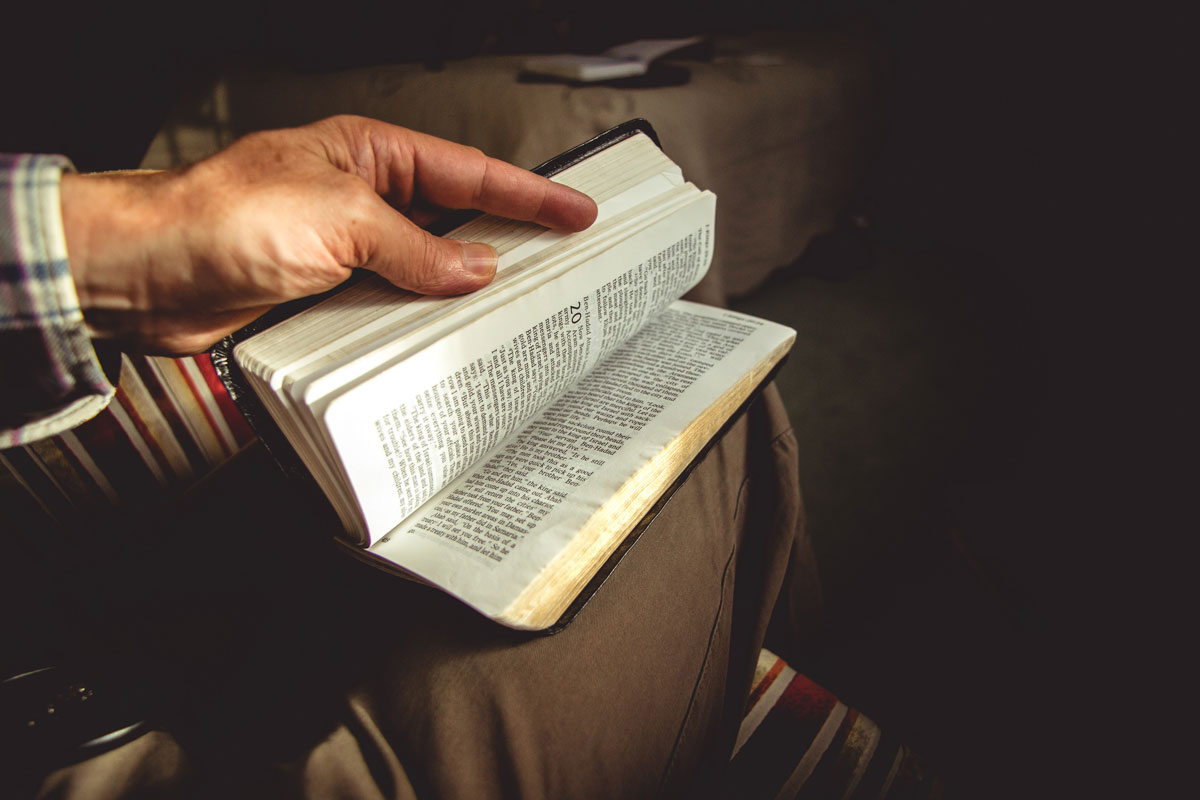 Questions to consider as you read:
What did you learn?
What didn't you understand?
What had you not seen before?
One Book Sermon Series
Matthew is the first book in the N.T. for good reason. The goal of the book is to present Jesus as a continuation and fulfillment of the O.T. Matthew is a Gospel account written by a Jew, to Jews about a Jew. So it's perfectly within the focus of this book for Jesus to be presented as Messiah, Teacher and Emmanuel.
Malachi was a prophet that challenged God's people who were a part of the remnant who returned from captivity. Despite God's love and goodness, they questioned their relationship with him. Having drifted into spiritual and moral decline, Malachi answers their questions and, in a hint of what is to come, teaches God has a plan for the future.
The next to the last book of the O.T. is the most difficult of the Minor Prophets. It's also the longest. The difficulty is not in the length but the interpretation of the visions and prophecies regarding God's Holy City and his people. Zechariah is truly messianic, apocalyptic and eschatological. We address these topics briefly and look at the central theme of encouragement in this book.
January
| Day | Read | Day | Read | Day | Read | Day | Read |
| --- | --- | --- | --- | --- | --- | --- | --- |
| 1 | Gen. 1-3 | 9 | Job 21-23 | 17 | Gen. 16-18 | 25 | Gen. 38-40 |
| 2 | Gen. 4-7 | 10 | Job 24-28 | 18 | Gen. 19-21 | 26 | Gen. 41-42 |
| 3 | Gen. 8-11 | 11 | Job 29-31 | 19 | Gen. 22-24 | 27 | Gen. 43-45 |
| 4 | Job 1-5 | 12 | Job 32-34 | 20 | Gen. 25-26 | 28 | Gen. 46-47 |
| 5 | Job 6-9 | 13 | Job 35-37 | 21 | Gen. 27-29 | 29 | Gen. 48-50 |
| 6 | Job 10-13 | 14 | Job 38-39 | 22 | Gen. 30-31 | 30 | Ex. 1-3 |
| 7 | Job 14-16 | 15 | Job 40-42 | 23 | Gen. 32-24 | 31 | Ex. 4-6 |
| 8 | Job 17-20 | 16 | Gen. 121-15 | 24 | Gen. 35-37 | | |
February
| Day | Read | Day | Read | Day | Read | Day | Read |
| --- | --- | --- | --- | --- | --- | --- | --- |
| 1 | Ex. 7-9 | 9 | Ex. 30-32 | 17 | Lev. 14-15 | 25 | Num. 5-6 |
| 2 | Ex. 10-12 | 10 | Ex. 33-35 | 18 | Lev. 16-18 | 26 | Num. 7 |
| 3 | Ex. 13-15 | 11 | Ex. 36-38 | 19 | Lev. 19-21 | 27 | Num. 8-10 |
| 4 | Ex. 16-18 | 12 | Ex. 39-40 | 20 | Lev. 22-23 | 28 | Num. 11-13 |
| 5 | Ex. 19-21 | 13 | Lev. 1-4 | 21 | Lev. 24-25 | | |
| 6 | Ex. 22-24 | 14 | Lev. 5-7 | 22 | Lev. 26-27 | | |
| 7 | Ex. 25-27 | 15 | Lev. 8-10 | 23 | Num. 1-2 | | |
| 8 | Ex. 28-29 | 16 | Lev. 11-13 | 24 | Num. 3-4 | | |
March
| Day | Read | Day | Read | Day | Read | Day | Read |
| --- | --- | --- | --- | --- | --- | --- | --- |
| 1 | Num. 14-15, Ps. 90 | 9 | Num. 33-34 | 17 | Deut. 17-20 | 25 | Josh. 9-11 |
| 2 | Num. 16-17 | 10 | Num. 35-36 | 18 | Deut. 21-23 | 26 | Josh. 12-15 |
| 3 | Num. 18-20 | 11 | Deut. 1-2 | 19 | Deut. 24-27 | 27 | Josh. 16-18 |
| 4 | Num. 21-22 | 12 | Deut. 3-4 | 20 | Deut. 28-29 | 28 | Josh. 19-21 |
| 5 | Num. 23-25 | 13 | Deut. 5-7 | 21 | Deut. 30-31 | 29 | Josh 22-24 |
| 6 | Num. 26-27 | 14 | Deut. 8-10 | 22 | Deut. 32-34, Ps. 91 | 30 | Jdgs. 1-2 |
| 7 | Num. 28-30 | 15 | Deut. 11-13 | 23 | Josh. 1-4 | 31 | Jdgs. 3-5 |
| 8 | Num. 31-32 | 16 | Deut. 14-16 | 24 | Josh. 5-7 | | |
April
| Day | Read | Day | Read | Day | Read | Day | Read |
| --- | --- | --- | --- | --- | --- | --- | --- |
| 1 | Jdgs. 6-7 | 9 | 1 Sam. 4-8 | 17 | 1 Sam. 25-27 | 25 | 1 Chron. 3-5 |
| 2 | Jdgs. 8-9 | 10 | 1 Sam. 9-12 | 18 | Ps. 17, 35, 54, 63 | 26 | Ps. 73, 77-78 |
| 3 | Jdgs. 10-12 | 11 | 1 Sam. 13-14 | 19 | 1 Sam. 28-31; Ps. 18 | 27 | 1 Chron. 6 |
| 4 | Jdgs. 13-15 | 12 | 1 Sam 15-17 | 20 | Ps. 121, 123-125, 128-130 | 28 | Ps. 81, 88, 92-93 |
| 5 | Jdgs. 16-18 | 13 | 1 Sam. 18-20; Ps. 11, 59 | 21 | 2 Sam. 1-4 | 29 | 1 Chron. 7-10 |
| 6 | Jdgs. 19-21 | 14 | 1 Sam 21-24 | 22 | Ps. 6, 8-10, 14, 16, 19, 21 | 30 | Ps. 102-104 |
| 7 | Ruth 1-4 | 15 | Ps. 7, 27, 31, 34, 52 | 23 | 1 Chron. 1-2 | | |
| 8 | 1 Sam. 1-3 | 16 | Ps. 56, 120, 140-142 | 24 | Ps. 43-45, 49, 84-85, 87 | | |
May
| Day | Read | Day | Read | Day | Read | Day | Read |
| --- | --- | --- | --- | --- | --- | --- | --- |
| 1 | 2 Sam. 5; 1 Chron 11-12 | 9 | 2 Sam. 8-9; 1 Chron. 18 | 17 | 2 Sam. 16-18 | 25 | 1 Chron. 23-25 |
| 2 | Ps. 133 | 10 | Ps. 50, 53, 60, 75 | 18 | Ps. 26, 40, 58, 61-62, 64 | 26 | Ps. 131, 138-139, 143-145 |
| 3 | Ps. 106-107 | 11 | 2 Sam. 10; 1 Chron. 19; Ps. 20 | 19 | 2 Sam. 19-21 | 27 | 1 Chron. 26-29; Ps. 127 |
| 4 | 1 Chron. 13-16 | 12 | Ps. 65-67, 69-70 | 20 | Ps. 5, 38, 41-42 | 28 | Ps. 111-118 |
| 5 | Ps. 1-2, 15, 22-24, 47, 68 | 13 | 2 Sam. 11-12; 1 Chron. 20 | 21 | 2 Sam. 22-23; Ps. 57 | 29 | 1 Kings 1-2; Ps. 37, 71, 94 |
| 6 | Ps. 89, 96, 100-101, 105, 132 | 14 | Ps. 32, 51, 86, 122 | 22 | Ps. 95, 97-99 | 30 | Ps. 119 |
| 7 | 2 Sam. 6-7; 1 Chron. 17 | 15 | 2 Sam. 13-15 | 23 | 2 Sam. 24; 1 Chron, 21-22; Ps. 30 | 31 | 1 Kings 3-4 |
| 8 | Ps. 25, 29, 33, 36, 39 | 16 | Ps. 3-4, 12-13, 28, 55 | 24 | Ps. 108-110 | | |
June
| Day | Read | Day | Read | Day | Read | Day | Read |
| --- | --- | --- | --- | --- | --- | --- | --- |
| 1 | 2 Chron. 1; Ps. 72 | 9 | Prov. 19-21 | 17 | Prob. 25-26 | 25 | 1 Kgs. 15; 2 Chron. 13-16 |
| 2 | Song of Solomon | 10 | Prov. 22-24 | 18 | Prov. 27-29 | 26 | 1 Kgs. 16; 2 Chron. 17 |
| 3 | Prov. 1-3 | 11 | 1 Kgs. 5-6; 2 Chron. 2-3 | 19 | Ecc. 1-6 | 27 | 1 Kgs. 17-19 |
| 4 | Prov. 4-6 | 12 | 1 Kgs. 7; 2 Chron. 4 | 20 | Ecc. 7-12 | 28 | 1 Kgs. 20-21 |
| 5 | Prov. 7-9 | 13 | 1 Kgs. 8; 2 Chron. 5 | 21 | 1 Kgs. 10-11; 2 Chron. 9 | 29 | 1 Kgs. 22; 2 Chron. 18 |
| 6 | Prov. 10-12 | 14 | 2 Chron. 6-7; Ps. 136 | 22 | Prov. 30-31 | 30 | 2 Chron. 19-23 |
| 7 | Prov. 13-15 | 15 | Ps. 134. 146-150 | 23 | 1 Kgs. 12-14 | | |
| 8 | Prov. 16-18 | 16 | 1 Kgs. 9; 2 Chron. 8 | 24 | 2 Chron. 10-12 | | |
July
| Day | Read | Day | Read | Day | Read | Day | Read |
| --- | --- | --- | --- | --- | --- | --- | --- |
| 1 | Obadiah; Ps. 82-82 | 9 | Isaiah 1-4 | 17 | Is. 18-22 | 25 | Is. 37-39; Ps. 76 |
| 2 | 2 Kgs. 1-4 | 10 | Isaiah 5-8 | 18 | Is. 23-27 | 26 | Is. 40-43 |
| 3 | 2 Kgs. 5-8 | 11 | Amos 1-5 | 19 | 2 Kgs. 18; 2 Chron. 29-31; Ps. 48 | 27 | Is. 44-48 |
| 4 | 2 Kgs. 9-11 | 12 | Amos 6-9 | 20 | Hosea 1-7 | 28 | 2 Kgs. 19; Ps. 46, 80, 135 |
| 5 | 2 Kgs. 12-13; 2 Chron. 24 | 13 | 2 Chron. 27; Is. 9-12 | 21 | Hosea 8-14 | 29 | Is. 49-53 |
| 6 | 2 Kgs. 14; 2 Chron. 25 | 14 | Micah | 22 | Is. 28-30 | 30 | Is. 54-58 |
| 7 | Jonah 1-4 | 15 | 2 Chron. 28; 2 Kgs. 16-17 | 23 | Is. 31-34 | 31 | Is. 59-63 |
| 8 | 2 Kgs. 15; 2 Chron. 26 | 16 | Is. 13-17 | 24 | Is. 35-36 | | |
August
| Day | Read | Day | Read | Day | Read | Day | Read |
| --- | --- | --- | --- | --- | --- | --- | --- |
| 1 | Is. 64-66 | 9 | Jer. 7-9 | 17 | Jer. 35-37 | 25 | Lam. 1-2 |
| 2 | 2 Kgs. 20-21 | 10 | Her. 10-13 | 18 | Jer. 38-40; Pr. 74, 79 | 26 | Lam. 3-5 |
| 3 | 2 Chron. 32-33 | 11 | Jer. 14-17 | 19 | 2 Kgs. 24-25; 2 Chr. 36 | 27 | Ez. 1-4 |
| 4 | Nahum | 12 | Jer. 18-22 | 20 | Habakkuk | 28 | Ez. 5-8 |
| 5 | 2 Kgs. 22-23; 2 Chron. 34-35 | 13 | Jer. 23-25 | 21 | Jer. 41-45 | 29 | Ez. 9-12 |
| 6 | Zephaniah | 14 | Jer. 26-29 | 22 | Jer. 46-48 | 30 | Ez. 13-15 |
| 7 | Jer. 1-3 | 15 | Jer. 30-31 | 23 | Jer. 49-50 | 31 | Ez. 16-17 |
| 8 | Jer. 4-6 | 16 | Jer. 32-34 | 24 | Jer. 51-52 | | |
September
| Day | Read | Day | Read | Day | Read | Day | Read |
| --- | --- | --- | --- | --- | --- | --- | --- |
| 1 | Ez. 18-20 | 9 | Exz. 40-42 | 17 | Ezra 1-3 | 25 | Ezra7-10 |
| 2 | Ez. 21-22 | 10 | Ez. 43-45 | 18 | Ezra 4-6; Ps. 137 | 26 | Neh. 1-5 |
| 3 | Ez. 23-24 | 11 | Ez. 46-48 | 19 | Haggai | 27 | Neh. 6-7 |
| 4 | Ez. 25-27 | 12 | Joel 1-3 | 20 | Zech. 1-4 | 28 | Neh. 8-10 |
| 5 | Ez. 28-30 | 13 | Daniel 1-3 | 21 | Zech. 5-9 | 29 | Neh. 11-13; Ps. 126 |
| 6 | Ez. 31-33 | 14 | Daniel 4-6 | 22 | Zech. 10-14 | 30 | Malachi |
| 7 | Ez. 34-46 | 15 | Daniel 7-9 | 23 | Esth. 1-5 | | |
| 8 | Ex. 37-39 | 16 | Daniel 10-12 | 24 | Esth. 6-10 | | |
October
| Day | Read | Day | Read | Day | Read | Day | Read |
| --- | --- | --- | --- | --- | --- | --- | --- |
| 1 | Lk. 1; Jn. 1 | 9 | Mt. 12; Mk. 3; Lk. 6 | 17 | Mt. 14; Mk. 6; Lk. 9 | 25 | Lk. 10 |
| 2 | Mt. 1; Lk. 2 | 10 | Mt. 5-7 | 18 | Jn. 6 | 26 | Lk. 12-13 |
| 3 | Mt. 2 | 11 | Mt. 9; Lk. 7 | 19 | Mt. 15; Mk. 7 | 27 | Lk. 14-15 |
| 4 | Mt. 2; Mk. 1; Lk. 3 | 12 | Mt. 11 | 20 | Mt. 16; Mk. 8 | 28 | Lk. 16-17 |
| 5 | Mt. 4; Lk. 4-5 | 13 | Lk. 11 | 21 | Mt. 17; Mk. 9 | 29 | Jn. 11 |
| 6 | Jn. 2-4 | 14 | Mt. 13; Lk. 8 | 22 | Mt. 18 | 30 | Lk. 18 |
| 7 | Mt. 8; Mk. 2 | 15 | Mk. 4-5 | 23 | Jn. 7-8 | 31 | Mt. 19; Mk. 10 |
| 8 | Jn. 5 | 16 | Mt. 10 | 24 | Jn. 9-10 | | |
November
| Day | Read | Day | Read | Day | Read | Day | Read |
| --- | --- | --- | --- | --- | --- | --- | --- |
| 1 | Mt. 20-21 | 9 | Mt. 26; Mk. 14 | 17 | Acts 4-6 | 25 | Gal. 4-6 |
| 2 | Lk. 19 | 10 | Lk. 22; Jn. 13 | 18 | Acts 7-8 | 26 | Acts 17 |
| 3 | Mk. 11; Jn. 12 | 11 | Jn. 14-17 | 19 | Acts 9-10 | 27 | 1&2 Thess. |
| 4 | Mt. 22; Mk. 12 | 12 | Mt. 27; Mk. 15 | 20 | Acts 11-12 | 28 | Acts 18-19 |
| 5 | Mt. 23; Lk. 20-21 | 13 | Lk. 23; Jn. 18-19 | 21 | Acts 13-14 | 29 | 1 Cor. 1-4 |
| 6 | Mk. 13 | 14 | Mt. 28; Mk. 16 | 22 | James | 30 | 1 Cor. 5-8 |
| 7 | Mt. 24 | 15 | Lk. 24; Jn. 20-21 | 23 | Acts 15-16 | | |
| 8 | Mt. 25 | 16 | Acts 1-3 | 24 | Gal. 1-3 | | |
December
| Day | Read | Day | Read | Day | Read | Day | Read |
| --- | --- | --- | --- | --- | --- | --- | --- |
| 1 | 1 Cor. 9-11 | 9 | Rmns. 8-10 | 17 | Philippians | 25 | 2 Peter, Jude |
| 2 | 1 Cor. 12-14 | 10 | Rmns. 11-13 | 18 | 1 Timothy | 26 | 1 John |
| 3 | 1 Cor. 15-16 | 11 | Rmns. 14-16 | 19 | Titus | 27 | 2, 3 John |
| 4 | 2 Cor. 1-4 | 12 | Acts 30-23 | 20 | 1 Peter | 28 | Rev. 1-5 |
| 5 | 2 Cor. 5-9 | 13 | Acts 24-26 | 21 | Hebrews 1-6 | 29 | Rev. 6-11 |
| 6 | 2 Cor. 10-13 | 14 | Acts 27-28 | 22 | Hebrews 7-10 | 30 | Rev. 12-18 |
| 7 | Rmns. 1-3 | 15 | Col.; Philemon | 23 | Hebrews 11-13 | 31 | Rev. 19-22 |
| 8 | Rmns. 4-7 | 16 | Ephesians | 24 | 2 Timothy | | |