People of the Book 2019 Reading Plan
Reading the Bible in Chronological Order
We are reading through the Bible chronologically this year using these bookmarks as a guide. At the end of each week on Sundays at 5 PM, we are gathering in small groups to discuss what we've learned as we read. If this strikes your interest, we hope you'll pick up with today's date and come join us as we read! The current month's reading till be featured at the top with the full scheduled below that.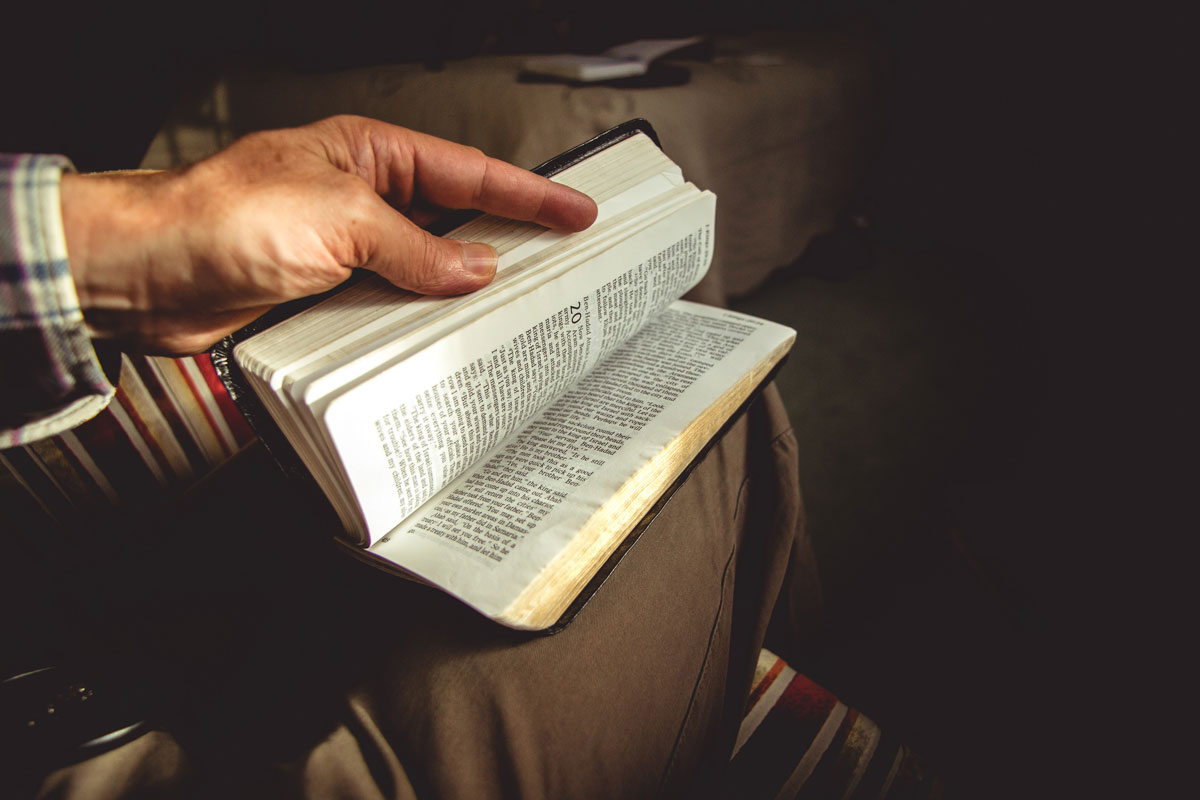 Questions to consider as you read:
What did you learn?
What didn't you understand?
What had you not seen before?
One Book Sermon Series
As we continue our "One Book" series, Song of Solomon present a story about a man and woman who are in love. While the content of this book is sometimes difficult to study in mixed company, ultimately, it is the story of the meeting, marriage and struggle involved in the marriage relationship. From this story, we learn three key things that keep our marriages healthy.
"What's the meaning of life?" Not long after man inhabited this globe humans began to ask that question. The book of Ecclesiastes expected that question and gives us answers. In this lesson we examine how life must never be lived "apart from God" and we look at three practical ways to deal with the frustrations that are common to life (key passages: Ecc. 3:1-15, Ecc. 12:13-14)
November
| Day | Read | Day | Read | Day | Read | Day | Read |
| --- | --- | --- | --- | --- | --- | --- | --- |
| 1 | Mt. 20-21 | 9 | Mt. 26; Mk. 14 | 17 | Acts 4-6 | 25 | Gal. 4-6 |
| 2 | Lk. 19 | 10 | Lk. 22; Jn. 13 | 18 | Acts 7-8 | 26 | Acts 17 |
| 3 | Mk. 11; Jn. 12 | 11 | Jn. 14-17 | 19 | Acts 9-10 | 27 | 1&2 Thess. |
| 4 | Mt. 22; Mk. 12 | 12 | Mt. 27; Mk. 15 | 20 | Acts 11-12 | 28 | Acts 18-19 |
| 5 | Mt. 23; Lk. 20-21 | 13 | Lk. 23; Jn. 18-19 | 21 | Acts 13-14 | 29 | 1 Cor. 1-4 |
| 6 | Mk. 13 | 14 | Mt. 28; Mk. 16 | 22 | James | 30 | 1 Cor. 5-8 |
| 7 | Mt. 24 | 15 | Lk. 24; Jn. 20-21 | 23 | Acts 15-16 | | |
| 8 | Mt. 25 | 16 | Acts 1-3 | 24 | Gal. 1-3 | | |
January
| Day | Read | Day | Read | Day | Read | Day | Read |
| --- | --- | --- | --- | --- | --- | --- | --- |
| 1 | Gen. 1-3 | 9 | Job 21-23 | 17 | Gen. 16-18 | 25 | Gen. 38-40 |
| 2 | Gen. 4-7 | 10 | Job 24-28 | 18 | Gen. 19-21 | 26 | Gen. 41-42 |
| 3 | Gen. 8-11 | 11 | Job 29-31 | 19 | Gen. 22-24 | 27 | Gen. 43-45 |
| 4 | Job 1-5 | 12 | Job 32-34 | 20 | Gen. 25-26 | 28 | Gen. 46-47 |
| 5 | Job 6-9 | 13 | Job 35-37 | 21 | Gen. 27-29 | 29 | Gen. 48-50 |
| 6 | Job 10-13 | 14 | Job 38-39 | 22 | Gen. 30-31 | 30 | Ex. 1-3 |
| 7 | Job 14-16 | 15 | Job 40-42 | 23 | Gen. 32-24 | 31 | Ex. 4-6 |
| 8 | Job 17-20 | 16 | Gen. 121-15 | 24 | Gen. 35-37 | | |
February
| Day | Read | Day | Read | Day | Read | Day | Read |
| --- | --- | --- | --- | --- | --- | --- | --- |
| 1 | Ex. 7-9 | 9 | Ex. 30-32 | 17 | Lev. 14-15 | 25 | Num. 5-6 |
| 2 | Ex. 10-12 | 10 | Ex. 33-35 | 18 | Lev. 16-18 | 26 | Num. 7 |
| 3 | Ex. 13-15 | 11 | Ex. 36-38 | 19 | Lev. 19-21 | 27 | Num. 8-10 |
| 4 | Ex. 16-18 | 12 | Ex. 39-40 | 20 | Lev. 22-23 | 28 | Num. 11-13 |
| 5 | Ex. 19-21 | 13 | Lev. 1-4 | 21 | Lev. 24-25 | | |
| 6 | Ex. 22-24 | 14 | Lev. 5-7 | 22 | Lev. 26-27 | | |
| 7 | Ex. 25-27 | 15 | Lev. 8-10 | 23 | Num. 1-2 | | |
| 8 | Ex. 28-29 | 16 | Lev. 11-13 | 24 | Num. 3-4 | | |
March
| Day | Read | Day | Read | Day | Read | Day | Read |
| --- | --- | --- | --- | --- | --- | --- | --- |
| 1 | Num. 14-15, Ps. 90 | 9 | Num. 33-34 | 17 | Deut. 17-20 | 25 | Josh. 9-11 |
| 2 | Num. 16-17 | 10 | Num. 35-36 | 18 | Deut. 21-23 | 26 | Josh. 12-15 |
| 3 | Num. 18-20 | 11 | Deut. 1-2 | 19 | Deut. 24-27 | 27 | Josh. 16-18 |
| 4 | Num. 21-22 | 12 | Deut. 3-4 | 20 | Deut. 28-29 | 28 | Josh. 19-21 |
| 5 | Num. 23-25 | 13 | Deut. 5-7 | 21 | Deut. 30-31 | 29 | Josh 22-24 |
| 6 | Num. 26-27 | 14 | Deut. 8-10 | 22 | Deut. 32-34, Ps. 91 | 30 | Jdgs. 1-2 |
| 7 | Num. 28-30 | 15 | Deut. 11-13 | 23 | Josh. 1-4 | 31 | Jdgs. 3-5 |
| 8 | Num. 31-32 | 16 | Deut. 14-16 | 24 | Josh. 5-7 | | |
April
| Day | Read | Day | Read | Day | Read | Day | Read |
| --- | --- | --- | --- | --- | --- | --- | --- |
| 1 | Jdgs. 6-7 | 9 | 1 Sam. 4-8 | 17 | 1 Sam. 25-27 | 25 | 1 Chron. 3-5 |
| 2 | Jdgs. 8-9 | 10 | 1 Sam. 9-12 | 18 | Ps. 17, 35, 54, 63 | 26 | Ps. 73, 77-78 |
| 3 | Jdgs. 10-12 | 11 | 1 Sam. 13-14 | 19 | 1 Sam. 28-31; Ps. 18 | 27 | 1 Chron. 6 |
| 4 | Jdgs. 13-15 | 12 | 1 Sam 15-17 | 20 | Ps. 121, 123-125, 128-130 | 28 | Ps. 81, 88, 92-93 |
| 5 | Jdgs. 16-18 | 13 | 1 Sam. 18-20; Ps. 11, 59 | 21 | 2 Sam. 1-4 | 29 | 1 Chron. 7-10 |
| 6 | Jdgs. 19-21 | 14 | 1 Sam 21-24 | 22 | Ps. 6, 8-10, 14, 16, 19, 21 | 30 | Ps. 102-104 |
| 7 | Ruth 1-4 | 15 | Ps. 7, 27, 31, 34, 52 | 23 | 1 Chron. 1-2 | | |
| 8 | 1 Sam. 1-3 | 16 | Ps. 56, 120, 140-142 | 24 | Ps. 43-45, 49, 84-85, 87 | | |
May
| Day | Read | Day | Read | Day | Read | Day | Read |
| --- | --- | --- | --- | --- | --- | --- | --- |
| 1 | 2 Sam. 5; 1 Chron 11-12 | 9 | 2 Sam. 8-9; 1 Chron. 18 | 17 | 2 Sam. 16-18 | 25 | 1 Chron. 23-25 |
| 2 | Ps. 133 | 10 | Ps. 50, 53, 60, 75 | 18 | Ps. 26, 40, 58, 61-62, 64 | 26 | Ps. 131, 138-139, 143-145 |
| 3 | Ps. 106-107 | 11 | 2 Sam. 10; 1 Chron. 19; Ps. 20 | 19 | 2 Sam. 19-21 | 27 | 1 Chron. 26-29; Ps. 127 |
| 4 | 1 Chron. 13-16 | 12 | Ps. 65-67, 69-70 | 20 | Ps. 5, 38, 41-42 | 28 | Ps. 111-118 |
| 5 | Ps. 1-2, 15, 22-24, 47, 68 | 13 | 2 Sam. 11-12; 1 Chron. 20 | 21 | 2 Sam. 22-23; Ps. 57 | 29 | 1 Kings 1-2; Ps. 37, 71, 94 |
| 6 | Ps. 89, 96, 100-101, 105, 132 | 14 | Ps. 32, 51, 86, 122 | 22 | Ps. 95, 97-99 | 30 | Ps. 119 |
| 7 | 2 Sam. 6-7; 1 Chron. 17 | 15 | 2 Sam. 13-15 | 23 | 2 Sam. 24; 1 Chron, 21-22; Ps. 30 | 31 | 1 Kings 3-4 |
| 8 | Ps. 25, 29, 33, 36, 39 | 16 | Ps. 3-4, 12-13, 28, 55 | 24 | Ps. 108-110 | | |
June
| Day | Read | Day | Read | Day | Read | Day | Read |
| --- | --- | --- | --- | --- | --- | --- | --- |
| 1 | 2 Chron. 1; Ps. 72 | 9 | Prov. 19-21 | 17 | Prob. 25-26 | 25 | 1 Kgs. 15; 2 Chron. 13-16 |
| 2 | Song of Solomon | 10 | Prov. 22-24 | 18 | Prov. 27-29 | 26 | 1 Kgs. 16; 2 Chron. 17 |
| 3 | Prov. 1-3 | 11 | 1 Kgs. 5-6; 2 Chron. 2-3 | 19 | Ecc. 1-6 | 27 | 1 Kgs. 17-19 |
| 4 | Prov. 4-6 | 12 | 1 Kgs. 7; 2 Chron. 4 | 20 | Ecc. 7-12 | 28 | 1 Kgs. 20-21 |
| 5 | Prov. 7-9 | 13 | 1 Kgs. 8; 2 Chron. 5 | 21 | 1 Kgs. 10-11; 2 Chron. 9 | 29 | 1 Kgs. 22; 2 Chron. 18 |
| 6 | Prov. 10-12 | 14 | 2 Chron. 6-7; Ps. 136 | 22 | Prov. 30-31 | 30 | 2 Chron. 19-23 |
| 7 | Prov. 13-15 | 15 | Ps. 134. 146-150 | 23 | 1 Kgs. 12-14 | | |
| 8 | Prov. 16-18 | 16 | 1 Kgs. 9; 2 Chron. 8 | 24 | 2 Chron. 10-12 | | |
July
| Day | Read | Day | Read | Day | Read | Day | Read |
| --- | --- | --- | --- | --- | --- | --- | --- |
| 1 | Obadiah; Ps. 82-82 | 9 | Isaiah 1-4 | 17 | Is. 18-22 | 25 | Is. 37-39; Ps. 76 |
| 2 | 2 Kgs. 1-4 | 10 | Isaiah 5-8 | 18 | Is. 23-27 | 26 | Is. 40-43 |
| 3 | 2 Kgs. 5-8 | 11 | Amos 1-5 | 19 | 2 Kgs. 18; 2 Chron. 29-31; Ps. 48 | 27 | Is. 44-48 |
| 4 | 2 Kgs. 9-11 | 12 | Amos 6-9 | 20 | Hosea 1-7 | 28 | 2 Kgs. 19; Ps. 46, 80, 135 |
| 5 | 2 Kgs. 12-13; 2 Chron. 24 | 13 | 2 Chron. 27; Is. 9-12 | 21 | Hosea 8-14 | 29 | Is. 49-53 |
| 6 | 2 Kgs. 14; 2 Chron. 25 | 14 | Micah | 22 | Is. 28-30 | 30 | Is. 54-58 |
| 7 | Jonah 1-4 | 15 | 2 Chron. 28; 2 Kgs. 16-17 | 23 | Is. 31-34 | 31 | Is. 59-63 |
| 8 | 2 Kgs. 15; 2 Chron. 26 | 16 | Is. 13-17 | 24 | Is. 35-36 | | |
August
| Day | Read | Day | Read | Day | Read | Day | Read |
| --- | --- | --- | --- | --- | --- | --- | --- |
| 1 | Is. 64-66 | 9 | Jer. 7-9 | 17 | Jer. 35-37 | 25 | Lam. 1-2 |
| 2 | 2 Kgs. 20-21 | 10 | Her. 10-13 | 18 | Jer. 38-40; Pr. 74, 79 | 26 | Lam. 3-5 |
| 3 | 2 Chron. 32-33 | 11 | Jer. 14-17 | 19 | 2 Kgs. 24-25; 2 Chr. 36 | 27 | Ez. 1-4 |
| 4 | Nahum | 12 | Jer. 18-22 | 20 | Habakkuk | 28 | Ez. 5-8 |
| 5 | 2 Kgs. 22-23; 2 Chron. 34-35 | 13 | Jer. 23-25 | 21 | Jer. 41-45 | 29 | Ez. 9-12 |
| 6 | Zephaniah | 14 | Jer. 26-29 | 22 | Jer. 46-48 | 30 | Ez. 13-15 |
| 7 | Jer. 1-3 | 15 | Jer. 30-31 | 23 | Jer. 49-50 | 31 | Ez. 16-17 |
| 8 | Jer. 4-6 | 16 | Jer. 32-34 | 24 | Jer. 51-52 | | |
September
| Day | Read | Day | Read | Day | Read | Day | Read |
| --- | --- | --- | --- | --- | --- | --- | --- |
| 1 | Ez. 18-20 | 9 | Exz. 40-42 | 17 | Ezra 1-3 | 25 | Ezra7-10 |
| 2 | Ez. 21-22 | 10 | Ez. 43-45 | 18 | Ezra 4-6; Ps. 137 | 26 | Neh. 1-5 |
| 3 | Ez. 23-24 | 11 | Ez. 46-48 | 19 | Haggai | 27 | Neh. 6-7 |
| 4 | Ez. 25-27 | 12 | Joel 1-3 | 20 | Zech. 1-4 | 28 | Neh. 8-10 |
| 5 | Ez. 28-30 | 13 | Daniel 1-3 | 21 | Zech. 5-9 | 29 | Neh. 11-13; Ps. 126 |
| 6 | Ez. 31-33 | 14 | Daniel 4-6 | 22 | Zech. 10-14 | 30 | Malachi |
| 7 | Ez. 34-46 | 15 | Daniel 7-9 | 23 | Esth. 1-5 | | |
| 8 | Ex. 37-39 | 16 | Daniel 10-12 | 24 | Esth. 6-10 | | |
October
| Day | Read | Day | Read | Day | Read | Day | Read |
| --- | --- | --- | --- | --- | --- | --- | --- |
| 1 | Lk. 1; Jn. 1 | 9 | Mt. 12; Mk. 3; Lk. 6 | 17 | Mt. 14; Mk. 6; Lk. 9 | 25 | Lk. 10 |
| 2 | Mt. 1; Lk. 2 | 10 | Mt. 5-7 | 18 | Jn. 6 | 26 | Lk. 12-13 |
| 3 | Mt. 2 | 11 | Mt. 9; Lk. 7 | 19 | Mt. 15; Mk. 7 | 27 | Lk. 14-15 |
| 4 | Mt. 2; Mk. 1; Lk. 3 | 12 | Mt. 11 | 20 | Mt. 16; Mk. 8 | 28 | Lk. 16-17 |
| 5 | Mt. 4; Lk. 4-5 | 13 | Lk. 11 | 21 | Mt. 17; Mk. 9 | 29 | Jn. 11 |
| 6 | Jn. 2-4 | 14 | Mt. 13; Lk. 8 | 22 | Mt. 18 | 30 | Lk. 18 |
| 7 | Mt. 8; Mk. 2 | 15 | Mk. 4-5 | 23 | Jn. 7-8 | 31 | Mt. 19; Mk. 10 |
| 8 | Jn. 5 | 16 | Mt. 10 | 24 | Jn. 9-10 | | |
November
| Day | Read | Day | Read | Day | Read | Day | Read |
| --- | --- | --- | --- | --- | --- | --- | --- |
| 1 | Mt. 20-21 | 9 | Mt. 26; Mk. 14 | 17 | Acts 4-6 | 25 | Gal. 4-6 |
| 2 | Lk. 19 | 10 | Lk. 22; Jn. 13 | 18 | Acts 7-8 | 26 | Acts 17 |
| 3 | Mk. 11; Jn. 12 | 11 | Jn. 14-17 | 19 | Acts 9-10 | 27 | 1&2 Thess. |
| 4 | Mt. 22; Mk. 12 | 12 | Mt. 27; Mk. 15 | 20 | Acts 11-12 | 28 | Acts 18-19 |
| 5 | Mt. 23; Lk. 20-21 | 13 | Lk. 23; Jn. 18-19 | 21 | Acts 13-14 | 29 | 1 Cor. 1-4 |
| 6 | Mk. 13 | 14 | Mt. 28; Mk. 16 | 22 | James | 30 | 1 Cor. 5-8 |
| 7 | Mt. 24 | 15 | Lk. 24; Jn. 20-21 | 23 | Acts 15-16 | | |
| 8 | Mt. 25 | 16 | Acts 1-3 | 24 | Gal. 1-3 | | |
December
| Day | Read | Day | Read | Day | Read | Day | Read |
| --- | --- | --- | --- | --- | --- | --- | --- |
| 1 | 1 Cor. 9-11 | 9 | Rmns. 8-10 | 17 | Philippians | 25 | 2 Peter, Jude |
| 2 | 1 Cor. 12-14 | 10 | Rmns. 11-13 | 18 | 1 Timothy | 26 | 1 John |
| 3 | 1 Cor. 15-16 | 11 | Rmns. 14-16 | 19 | Titus | 27 | 2, 3 John |
| 4 | 2 Cor. 1-4 | 12 | Acts 30-23 | 20 | 1 Peter | 28 | Rev. 1-5 |
| 5 | 2 Cor. 5-9 | 13 | Acts 24-26 | 21 | Hebrews 1-6 | 29 | Rev. 6-11 |
| 6 | 2 Cor. 10-13 | 14 | Acts 27-28 | 22 | Hebrews 7-10 | 30 | Rev. 12-18 |
| 7 | Rmns. 1-3 | 15 | Col.; Philemon | 23 | Hebrews 11-13 | 31 | Rev. 19-22 |
| 8 | Rmns. 4-7 | 16 | Ephesians | 24 | 2 Timothy | | |