People of the Book 2019 Reading Plan
Reading the Bible in Chronological Order
We are reading through the Bible chronologically this year using these bookmarks as a guide. At the end of each week on Sundays at 5 PM, we are gathering in small groups to discuss what we've learned as we read. If this strikes your interest, we hope you'll pick up with today's date and come join us as we read! The current month's reading till be featured at the top with the full scheduled below that.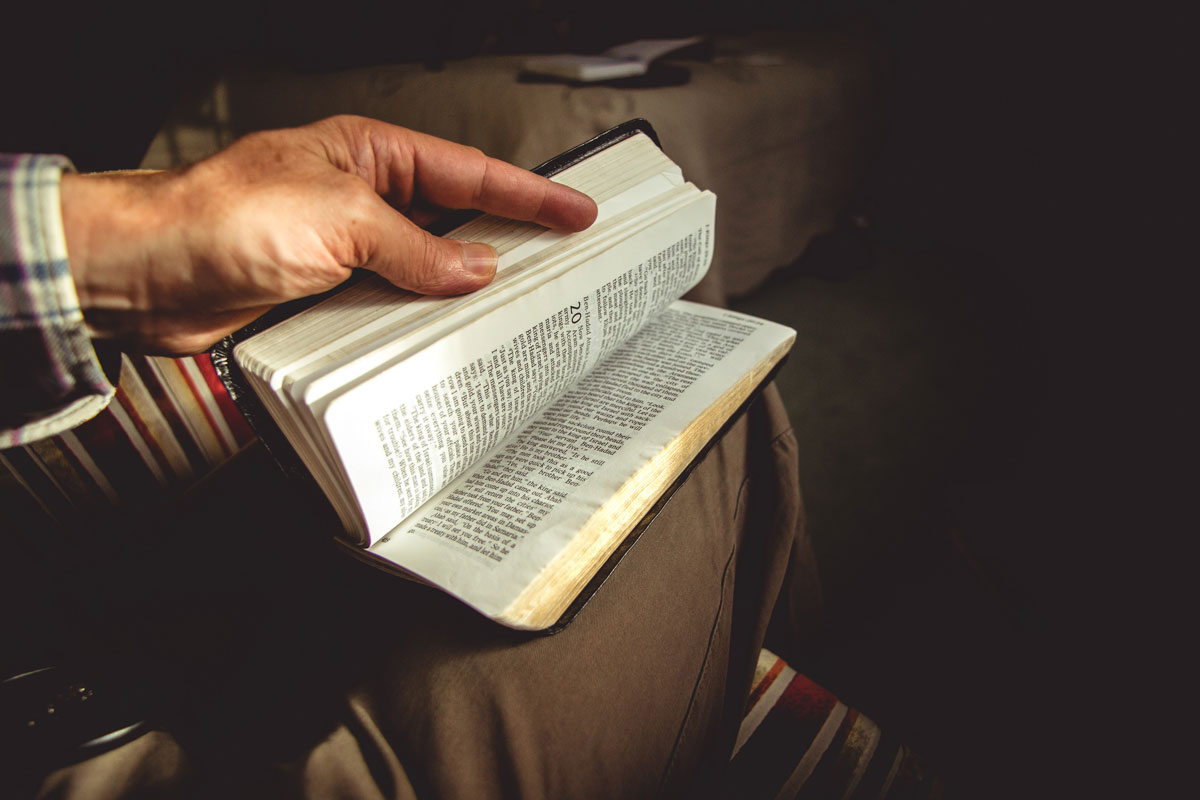 Questions to consider as you read:
What did you learn?
What didn't you understand?
What had you not seen before?
One Book Sermon Series
The book of Haggai has a very contemporary message: put first things first. Ironically, it was originally given to people a lot like us. There were people who would have agreed God is paramount, but they weren't acting like he was. In this lesson, we observe three ways we can make sure God is really first in our lives.
The book of Zephaniah deals with the unpleasant subject of God's judgment. It is specifically mentioned in 1 out of every 3 verses but also the majority of the three short chapters of this book stay on the subject. Yet, a study of Zephaniah is beneficial in that it reveals that God's judgment reveals purification, hope and a promise of a future kingdom where Jesus rules and saves.
If you've ever wanted to ask God some questions about your concerns, you have something in common with the prophet Habakkuk. Amazingly, this prophet has a conversation with God. God hears his questions, answers them and then allows him to be comforted in the reassurance that although it seems like God has lost control of the world, he really hasn't.
January
| Day | Read | Day | Read | Day | Read | Day | Read |
| --- | --- | --- | --- | --- | --- | --- | --- |
| 1 | Gen. 1-3 | 9 | Job 21-23 | 17 | Gen. 16-18 | 25 | Gen. 38-40 |
| 2 | Gen. 4-7 | 10 | Job 24-28 | 18 | Gen. 19-21 | 26 | Gen. 41-42 |
| 3 | Gen. 8-11 | 11 | Job 29-31 | 19 | Gen. 22-24 | 27 | Gen. 43-45 |
| 4 | Job 1-5 | 12 | Job 32-34 | 20 | Gen. 25-26 | 28 | Gen. 46-47 |
| 5 | Job 6-9 | 13 | Job 35-37 | 21 | Gen. 27-29 | 29 | Gen. 48-50 |
| 6 | Job 10-13 | 14 | Job 38-39 | 22 | Gen. 30-31 | 30 | Ex. 1-3 |
| 7 | Job 14-16 | 15 | Job 40-42 | 23 | Gen. 32-24 | 31 | Ex. 4-6 |
| 8 | Job 17-20 | 16 | Gen. 121-15 | 24 | Gen. 35-37 | | |
February
| Day | Read | Day | Read | Day | Read | Day | Read |
| --- | --- | --- | --- | --- | --- | --- | --- |
| 1 | Ex. 7-9 | 9 | Ex. 30-32 | 17 | Lev. 14-15 | 25 | Num. 5-6 |
| 2 | Ex. 10-12 | 10 | Ex. 33-35 | 18 | Lev. 16-18 | 26 | Num. 7 |
| 3 | Ex. 13-15 | 11 | Ex. 36-38 | 19 | Lev. 19-21 | 27 | Num. 8-10 |
| 4 | Ex. 16-18 | 12 | Ex. 39-40 | 20 | Lev. 22-23 | 28 | Num. 11-13 |
| 5 | Ex. 19-21 | 13 | Lev. 1-4 | 21 | Lev. 24-25 | | |
| 6 | Ex. 22-24 | 14 | Lev. 5-7 | 22 | Lev. 26-27 | | |
| 7 | Ex. 25-27 | 15 | Lev. 8-10 | 23 | Num. 1-2 | | |
| 8 | Ex. 28-29 | 16 | Lev. 11-13 | 24 | Num. 3-4 | | |
March
| Day | Read | Day | Read | Day | Read | Day | Read |
| --- | --- | --- | --- | --- | --- | --- | --- |
| 1 | Num. 14-15, Ps. 90 | 9 | Num. 33-34 | 17 | Deut. 17-20 | 25 | Josh. 9-11 |
| 2 | Num. 16-17 | 10 | Num. 35-36 | 18 | Deut. 21-23 | 26 | Josh. 12-15 |
| 3 | Num. 18-20 | 11 | Deut. 1-2 | 19 | Deut. 24-27 | 27 | Josh. 16-18 |
| 4 | Num. 21-22 | 12 | Deut. 3-4 | 20 | Deut. 28-29 | 28 | Josh. 19-21 |
| 5 | Num. 23-25 | 13 | Deut. 5-7 | 21 | Deut. 30-31 | 29 | Josh 22-24 |
| 6 | Num. 26-27 | 14 | Deut. 8-10 | 22 | Deut. 32-34, Ps. 91 | 30 | Jdgs. 1-2 |
| 7 | Num. 28-30 | 15 | Deut. 11-13 | 23 | Josh. 1-4 | 31 | Jdgs. 3-5 |
| 8 | Num. 31-32 | 16 | Deut. 14-16 | 24 | Josh. 5-7 | | |
April
| Day | Read | Day | Read | Day | Read | Day | Read |
| --- | --- | --- | --- | --- | --- | --- | --- |
| 1 | Jdgs. 6-7 | 9 | 1 Sam. 4-8 | 17 | 1 Sam. 25-27 | 25 | 1 Chron. 3-5 |
| 2 | Jdgs. 8-9 | 10 | 1 Sam. 9-12 | 18 | Ps. 17, 35, 54, 63 | 26 | Ps. 73, 77-78 |
| 3 | Jdgs. 10-12 | 11 | 1 Sam. 13-14 | 19 | 1 Sam. 28-31; Ps. 18 | 27 | 1 Chron. 6 |
| 4 | Jdgs. 13-15 | 12 | 1 Sam 15-17 | 20 | Ps. 121, 123-125, 128-130 | 28 | Ps. 81, 88, 92-93 |
| 5 | Jdgs. 16-18 | 13 | 1 Sam. 18-20; Ps. 11, 59 | 21 | 2 Sam. 1-4 | 29 | 1 Chron. 7-10 |
| 6 | Jdgs. 19-21 | 14 | 1 Sam 21-24 | 22 | Ps. 6, 8-10, 14, 16, 19, 21 | 30 | Ps. 102-104 |
| 7 | Ruth 1-4 | 15 | Ps. 7, 27, 31, 34, 52 | 23 | 1 Chron. 1-2 | | |
| 8 | 1 Sam. 1-3 | 16 | Ps. 56, 120, 140-142 | 24 | Ps. 43-45, 49, 84-85, 87 | | |
May
| Day | Read | Day | Read | Day | Read | Day | Read |
| --- | --- | --- | --- | --- | --- | --- | --- |
| 1 | 2 Sam. 5; 1 Chron 11-12 | 9 | 2 Sam. 8-9; 1 Chron. 18 | 17 | 2 Sam. 16-18 | 25 | 1 Chron. 23-25 |
| 2 | Ps. 133 | 10 | Ps. 50, 53, 60, 75 | 18 | Ps. 26, 40, 58, 61-62, 64 | 26 | Ps. 131, 138-139, 143-145 |
| 3 | Ps. 106-107 | 11 | 2 Sam. 10; 1 Chron. 19; Ps. 20 | 19 | 2 Sam. 19-21 | 27 | 1 Chron. 26-29; Ps. 127 |
| 4 | 1 Chron. 13-16 | 12 | Ps. 65-67, 69-70 | 20 | Ps. 5, 38, 41-42 | 28 | Ps. 111-118 |
| 5 | Ps. 1-2, 15, 22-24, 47, 68 | 13 | 2 Sam. 11-12; 1 Chron. 20 | 21 | 2 Sam. 22-23; Ps. 57 | 29 | 1 Kings 1-2; Ps. 37, 71, 94 |
| 6 | Ps. 89, 96, 100-101, 105, 132 | 14 | Ps. 32, 51, 86, 122 | 22 | Ps. 95, 97-99 | 30 | Ps. 119 |
| 7 | 2 Sam. 6-7; 1 Chron. 17 | 15 | 2 Sam. 13-15 | 23 | 2 Sam. 24; 1 Chron, 21-22; Ps. 30 | 31 | 1 Kings 3-4 |
| 8 | Ps. 25, 29, 33, 36, 39 | 16 | Ps. 3-4, 12-13, 28, 55 | 24 | Ps. 108-110 | | |
June
| Day | Read | Day | Read | Day | Read | Day | Read |
| --- | --- | --- | --- | --- | --- | --- | --- |
| 1 | 2 Chron. 1; Ps. 72 | 9 | Prov. 19-21 | 17 | Prob. 25-26 | 25 | 1 Kgs. 15; 2 Chron. 13-16 |
| 2 | Song of Solomon | 10 | Prov. 22-24 | 18 | Prov. 27-29 | 26 | 1 Kgs. 16; 2 Chron. 17 |
| 3 | Prov. 1-3 | 11 | 1 Kgs. 5-6; 2 Chron. 2-3 | 19 | Ecc. 1-6 | 27 | 1 Kgs. 17-19 |
| 4 | Prov. 4-6 | 12 | 1 Kgs. 7; 2 Chron. 4 | 20 | Ecc. 7-12 | 28 | 1 Kgs. 20-21 |
| 5 | Prov. 7-9 | 13 | 1 Kgs. 8; 2 Chron. 5 | 21 | 1 Kgs. 10-11; 2 Chron. 9 | 29 | 1 Kgs. 22; 2 Chron. 18 |
| 6 | Prov. 10-12 | 14 | 2 Chron. 6-7; Ps. 136 | 22 | Prov. 30-31 | 30 | 2 Chron. 19-23 |
| 7 | Prov. 13-15 | 15 | Ps. 134. 146-150 | 23 | 1 Kgs. 12-14 | | |
| 8 | Prov. 16-18 | 16 | 1 Kgs. 9; 2 Chron. 8 | 24 | 2 Chron. 10-12 | | |
July
| Day | Read | Day | Read | Day | Read | Day | Read |
| --- | --- | --- | --- | --- | --- | --- | --- |
| 1 | Obadiah; Ps. 82-82 | 9 | Isaiah 1-4 | 17 | Is. 18-22 | 25 | Is. 37-39; Ps. 76 |
| 2 | 2 Kgs. 1-4 | 10 | Isaiah 5-8 | 18 | Is. 23-27 | 26 | Is. 40-43 |
| 3 | 2 Kgs. 5-8 | 11 | Amos 1-5 | 19 | 2 Kgs. 18; 2 Chron. 29-31; Ps. 48 | 27 | Is. 44-48 |
| 4 | 2 Kgs. 9-11 | 12 | Amos 6-9 | 20 | Hosea 1-7 | 28 | 2 Kgs. 19; Ps. 46, 80, 135 |
| 5 | 2 Kgs. 12-13; 2 Chron. 24 | 13 | 2 Chron. 27; Is. 9-12 | 21 | Hosea 8-14 | 29 | Is. 49-53 |
| 6 | 2 Kgs. 14; 2 Chron. 25 | 14 | Micah | 22 | Is. 28-30 | 30 | Is. 54-58 |
| 7 | Jonah 1-4 | 15 | 2 Chron. 28; 2 Kgs. 16-17 | 23 | Is. 31-34 | 31 | Is. 59-63 |
| 8 | 2 Kgs. 15; 2 Chron. 26 | 16 | Is. 13-17 | 24 | Is. 35-36 | | |
August
| Day | Read | Day | Read | Day | Read | Day | Read |
| --- | --- | --- | --- | --- | --- | --- | --- |
| 1 | Is. 64-66 | 9 | Jer. 7-9 | 17 | Jer. 35-37 | 25 | Lam. 1-2 |
| 2 | 2 Kgs. 20-21 | 10 | Her. 10-13 | 18 | Jer. 38-40; Pr. 74, 79 | 26 | Lam. 3-5 |
| 3 | 2 Chron. 32-33 | 11 | Jer. 14-17 | 19 | 2 Kgs. 24-25; 2 Chr. 36 | 27 | Ez. 1-4 |
| 4 | Nahum | 12 | Jer. 18-22 | 20 | Habakkuk | 28 | Ez. 5-8 |
| 5 | 2 Kgs. 22-23; 2 Chron. 34-35 | 13 | Jer. 23-25 | 21 | Jer. 41-45 | 29 | Ez. 9-12 |
| 6 | Zephaniah | 14 | Jer. 26-29 | 22 | Jer. 46-48 | 30 | Ez. 13-15 |
| 7 | Jer. 1-3 | 15 | Jer. 30-31 | 23 | Jer. 49-50 | 31 | Ez. 16-17 |
| 8 | Jer. 4-6 | 16 | Jer. 32-34 | 24 | Jer. 51-52 | | |
September
| Day | Read | Day | Read | Day | Read | Day | Read |
| --- | --- | --- | --- | --- | --- | --- | --- |
| 1 | Ez. 18-20 | 9 | Exz. 40-42 | 17 | Ezra 1-3 | 25 | Ezra7-10 |
| 2 | Ez. 21-22 | 10 | Ez. 43-45 | 18 | Ezra 4-6; Ps. 137 | 26 | Neh. 1-5 |
| 3 | Ez. 23-24 | 11 | Ez. 46-48 | 19 | Haggai | 27 | Neh. 6-7 |
| 4 | Ez. 25-27 | 12 | Joel 1-3 | 20 | Zech. 1-4 | 28 | Neh. 8-10 |
| 5 | Ez. 28-30 | 13 | Daniel 1-3 | 21 | Zech. 5-9 | 29 | Neh. 11-13; Ps. 126 |
| 6 | Ez. 31-33 | 14 | Daniel 4-6 | 22 | Zech. 10-14 | 30 | Malachi |
| 7 | Ez. 34-46 | 15 | Daniel 7-9 | 23 | Esth. 1-5 | | |
| 8 | Ex. 37-39 | 16 | Daniel 10-12 | 24 | Esth. 6-10 | | |
October
| Day | Read | Day | Read | Day | Read | Day | Read |
| --- | --- | --- | --- | --- | --- | --- | --- |
| 1 | Lk. 1; Jn. 1 | 9 | Mt. 12; Mk. 3; Lk. 6 | 17 | Mt. 14; Mk. 6; Lk. 9 | 25 | Lk. 10 |
| 2 | Mt. 1; Lk. 2 | 10 | Mt. 5-7 | 18 | Jn. 6 | 26 | Lk. 12-13 |
| 3 | Mt. 2 | 11 | Mt. 9; Lk. 7 | 19 | Mt. 15; Mk. 7 | 27 | Lk. 14-15 |
| 4 | Mt. 2; Mk. 1; Lk. 3 | 12 | Mt. 11 | 20 | Mt. 16; Mk. 8 | 28 | Lk. 16-17 |
| 5 | Mt. 4; Lk. 4-5 | 13 | Lk. 11 | 21 | Mt. 17; Mk. 9 | 29 | Jn. 11 |
| 6 | Jn. 2-4 | 14 | Mt. 13; Lk. 8 | 22 | Mt. 18 | 30 | Lk. 18 |
| 7 | Mt. 8; Mk. 2 | 15 | Mk. 4-5 | 23 | Jn. 7-8 | 31 | Mt. 19; Mk. 10 |
| 8 | Jn. 5 | 16 | Mt. 10 | 24 | Jn. 9-10 | | |
November
| Day | Read | Day | Read | Day | Read | Day | Read |
| --- | --- | --- | --- | --- | --- | --- | --- |
| 1 | Mt. 20-21 | 9 | Mt. 26; Mk. 14 | 17 | Acts 4-6 | 25 | Gal. 4-6 |
| 2 | Lk. 19 | 10 | Lk. 22; Jn. 13 | 18 | Acts 7-8 | 26 | Acts 17 |
| 3 | Mk. 11; Jn. 12 | 11 | Jn. 14-17 | 19 | Acts 9-10 | 27 | 1&2 Thess. |
| 4 | Mt. 22; Mk. 12 | 12 | Mt. 27; Mk. 15 | 20 | Acts 11-12 | 28 | Acts 18-19 |
| 5 | Mt. 23; Lk. 20-21 | 13 | Lk. 23; Jn. 18-19 | 21 | Acts 13-14 | 29 | 1 Cor. 1-4 |
| 6 | Mk. 13 | 14 | Mt. 28; Mk. 16 | 22 | James | 30 | 1 Cor. 5-8 |
| 7 | Mt. 24 | 15 | Lk. 24; Jn. 20-21 | 23 | Acts 15-16 | | |
| 8 | Mt. 25 | 16 | Acts 1-3 | 24 | Gal. 1-3 | | |
December
| Day | Read | Day | Read | Day | Read | Day | Read |
| --- | --- | --- | --- | --- | --- | --- | --- |
| 1 | 1 Cor. 9-11 | 9 | Rmns. 8-10 | 17 | Philippians | 25 | 2 Peter, Jude |
| 2 | 1 Cor. 12-14 | 10 | Rmns. 11-13 | 18 | 1 Timothy | 26 | 1 John |
| 3 | 1 Cor. 15-16 | 11 | Rmns. 14-16 | 19 | Titus | 27 | 2, 3 John |
| 4 | 2 Cor. 1-4 | 12 | Acts 30-23 | 20 | 1 Peter | 28 | Rev. 1-5 |
| 5 | 2 Cor. 5-9 | 13 | Acts 24-26 | 21 | Hebrews 1-6 | 29 | Rev. 6-11 |
| 6 | 2 Cor. 10-13 | 14 | Acts 27-28 | 22 | Hebrews 7-10 | 30 | Rev. 12-18 |
| 7 | Rmns. 1-3 | 15 | Col.; Philemon | 23 | Hebrews 11-13 | 31 | Rev. 19-22 |
| 8 | Rmns. 4-7 | 16 | Ephesians | 24 | 2 Timothy | | |